Catholic Church.
Catholic Diocese of Port Harcourt present
A CALL FOR DIOCESAN NOVENA RETREAT .
Featuring : Stations of the Cross, penitential services, sacrament of reconciliation, Rosary procession, 24hours Eucharistic adoration, spiritual revival, Mass and intervention of God in our affairs.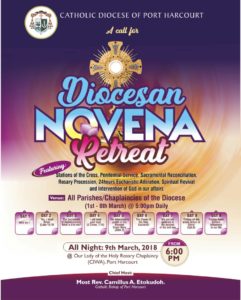 Date : 9th March 2018, 6pm, @ Our Lady of the Holy Rosary Chaplaincy (CIWA) Port Harcourt.
1-8th March 2018, 5pm daily, @ All parishes and chaplaincies of the port Harcourt Diocese.
Chief Host :  Most Rev Camilus A. Etokudoh.
Don't miss, let's all repent and pray together for God to heal our land.