Msgr Boniko Barinem-Livy.
The spiritual director of the Queen of Peace Comitium (Legion of Mary), Port Harcourt, has made his voice known to Christians all over the world that God will never send anyone to hell fire. He made this clear during his allucutio to the legionaries on 11th March 2018 at the Comitium meeting at Compost Christi Catholic Church Cathedral, D-line Port Harcourt.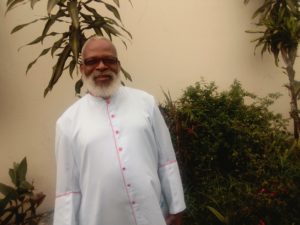 "Hell is real, heaven is real but we all will judge ourselves on the judgement day, you will judge yourself and I will judge myself. God will never condemn his handwork nor send anyone to hell fire by Himself. God is so merciful and compassionate that he allowed his only begotten son to die for us, a death on the cross. We should return the love of God and repent from our sins, abstain from evil, help our neighbors and embrace their weaknesses especially this lenten period and there after."-Mgsr Boniko emphasized.
He concluded by telling Catholics to always pay total attention and concentration during Mass and visit the Blessed Sacrament always with humility and not for public shows and jamboree. Legionaries should take Jesus Christ and Mary as their role model and never to follow and believe on mere human.