How Chukwudi Dimkpa Sweeps DMOMA Award, Wins Four Awards.
Engineer Chukwudi Dimkpa shocked Eastern Nigeria and Nigeria at large as he wins all the categories he was nominated in the 2020 DMOMA Award night that held in Port Harcourt City at Azny Event Centre, GRA Port Harcourt on 13th December.
Beating big brands like Charles Soludo, Godwin Obaseki, Felix Obuah, and many others.
Chukwudi Dimkpa emergence, Philanthropist, Youth Impact, Strata Base Group and as man of the year in South East and South South shows that the youth have woken up and have spoken to associate with the one who understands exactly what the youths need in Nigeria.
Other names who win in DMOMA Award includes: Gov Godwin Obaseki, Citizens Quest NGO, Obiaruko Ndukwe, Rotimi Amaechi, Anambra Broadcasting Service, among others.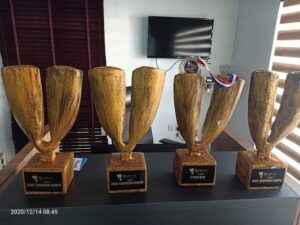 DMOMA Award Night.
The organizers of the prestigious DMOMA Award of excellence have awarded the 50 winners out of 1800 southern Nigerians nominated for 2020 DMOMA Award edition.
The nominations came from various tribes (Igbo, Efik, Ijaw, , Itshekiri, Annan, Ogoni, etc) in 11 states of the old Eastern part of Nigeria (South East and South South).
The Award Night held on Sunday 13th December 2020 at Azny Theatre Hall, Abacha Road, GRA, Port Harcourt.
The Online Media Award of excellence is a unique award that awards people of excellence from various disciplines and endeavors including Academics, Engineering, Entertainment, Legal practitioner, medical practitioners, politicians etc.
From grassroot to the Zenith.
Winning DMOMA Award is like winning an high profile creative artifacts which can be auction for millions of naira in the nearest future. It's the award for the real people who have done something significant to the people…. – Prof Eze Nwambo.
Below contain the full list of the Winners in their various categories (NB: Read through for more details):
List of 2020 DMOMA Award Nominees.
A.
Recognition/Honorary Award.
1. Prof. Ozo-Mekuri Ndimele. Vice Chancellor, Ignatius Ajuru University of Education. (For the development of IAUE beyond recognition).
2. Chief Engr. Michael Okoye. For training over 200 in school from Secondary school to University level.
3. Citizens Quest NGO. (For speaking for the masses).
4. Biobele and Belema Briggs, two kids from Port Harcourt who developed a mobile Application to curb the spread of COVID-19.
5. Banister Azubuike Ihemeje. (Philanthropist and security force advocate).
(Rivers Commisioner Of Health With His COVID -19 Respond Team.)
6. Chijoke Ihunwo, NYCN Chairman of the Year.
B. Category Award.
1. Newspaper of the Year.
– National Network (Rivers State).
2. Pastor/Priest/Evangelist of the Year.
– Fr Ebubemonso.
3. Philanthropist Of The Year.
– Engr. Chukwudi Dimkpa.
4. Prolific Writer of The Year.
– Bright Jossy.
5. Comedian of the Year.
– Mc Herenz.
6. Company of the Year.
– Strata Base Group.
7. Humanitarian Services.
– Dr. Barr. Amy Jude-Peters, Convener/Productivity Coach at TRE Leadership Summit.
8. Record Label/Music Firm.
– Mamilo Record (Germany/Nigeria).
9. Lady of Excellence.
– Obiaruko Ndukwe (Citizens Quest).
Top model/Queen/Stylist of the year.
– Eucharia Chiamaka (Rivers/Anambra .
11. Legal Practitioner of the Year.
– Barrister Desmond Agwor.
12. Engineer of the Year.
– Engr Ugochukwu Okoli
13. Governor of the year.
– Gov Godwin Obaseki (Edo State).
14. Blogger Of The Year.
– Journalist101.
15. Councillor of the Year.
– Hon. Onyinyechi Loveth Mgba (Ward 6)
16. Youth Impact/Development.
– Engr. Chukwudi Dimkpa.
17. Better Rivers.
18. Music Artiste of the Year.
– Idahams (Rivers State/Lagos).
19. Commissioner of the year.
– Hon. Chinedu Tasie (Housing And Estate).
20. Gospel Artiste of the Year.
– Isaac Chuks.
21. Local Government Chairman of the Year.
– Mayor Victor Ihunwo (Port Harcourt Mayor, Rivers State).
22. Media Icon.
– Anambra Broadcasting Service(ABS).
23. Youth Personality of the year.
– Chikaike Bright Okala
24. State Assembly Member of the Year.
– Rt Hon Uche Victor Okafor (Anambra Speaker).
25. Minister of the year.
– Rotimi Amaechi Chibuike( Minister of Transportation).
26. Man Of The Year.
– Engr. Chukwudi Dimkpa (Rivers State).
27. Social Media Influencer of The Year (Female).
– Precious Alechi Iyeuwa.
28. Social Media Influencer (Male).
– Eric-Opara Primus Agwenitari.
– MrProf. Victor Ehiogu.
29. Media Personality of The Year.
– Loloify (Osinachi/Ogamba, Anambra State).
– Ike Wigodo (NUJ, Secretary, Rivers State).
30. Student of the Year.
– Rt Hon Divine Ekechukwu (Speaker, Captain Elechi Amadi polytechnic, SUG).
31. Security Force Personality of the Year.
SP Nnamdi Omoni (Police force).
32. Medical Practitioner of the Year.
– Dr. Irene Obuzor
33. Health Organisation of The Year.: Rivers State Commisioner of Health with his COVID-19 Response Team.
34. Entrepreneur/Businessman of the Year.
Mazi Ezenwonye Chinasa (COTECK Furniture Ltd).
35. Sports Personality of the Year.
– Amb. Henry George, Marshal Art, DFC President.
36. Proactive Academia (Academics) of the Year.
– Prof. T. T Orunaboka
(Dean Faculty of Education, University of Port Harcourt.)
37. Proactive Group of the Year.
– Citizens Quest.
And Loloify Ifunanya Okonkwo….
For more info/sponsorship/support/ partnership – Call : 08035586768, 08175240331.
Visit DezMayorz.org