Chijoke Ihunwo
It's Hightime South East and South South Youths Unite – Amb Chijoke Ihunwo, tells IOC to relocate their oil company's headquarters to Rivers State.
The Chairman of the National Youth Council of Nigeria (NYCN) Rivers State chapter, Amb Chijoke Ihunwo has called on the youths of South East and South South to unite against the marginalisation of the region.
Tells the Edo State Youths not to allow politicians use them for thuggery in the coming election in Edo State.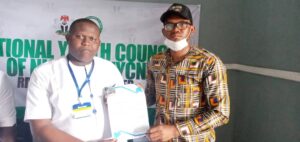 This and other things he said when Dez Mayorz Media (Organizers of DMOMA Award) visited the Youth Council secretariat in Port Harcourt to present DMOMA Award nomination letter to him.
Below is some of the excerpt from the brief Media chat with Amb. Chijoke Ihunwo.
On his nomination as Youth personality of the year in South South and South East.
" I must commend the people that nominated me for the prestigious DMOMA Award 2020….
Me and my team will continue to promote Peace in all the 23 local government area in Rivers State."
"Our Youths have great potentials and need employment.
We are working to create a portal platform and data base where all the youths in Rivers State can fill in their details for possible employment."
"We are working with different stakeholders and House of Assembly for local content development."
"We promote peace and tell Youth to shun cultism.
Together with the state security and Police Command, Rivers State is so peaceful now, like never before."
"We are talking to IOC to relocate their oil company's headquarters to Rivers State and other South South states and that's what they must do because the Rivers State is safe for business, they can't take our oil and still not do the needful."
On His Recent statement to the Nigeria labour Congress:
"I was very clear with my statement on the supposed Organized Labour Strike in Rivers State that Rivers State Governor was able to avert.
The country now is in a state of collapsing, the Nigeria Labour Union(NLC) is dead.
Upon all the increase in fuel prices and electricity tariffs in Nigeria, the NLC are quiet, no protest in Abuja or anywhere, but they wanted to come to a peaceful Rivers State to protest instead of following diplomatic approach made available by the State governor.
That's why I made the Statement in question, am not against NLC, I only warned them not to cause problem in the peaceful Rivers State.
The NLC led by Ayuba must sit up, and use their offices for the benefit of the masses."
"I don't have any issues with my brother Sokubo in the national level, I don't know why he made that counter statement…."
"I commend the Governor of Rivers State, Governor Nyesom Ezebunwo Wike's statemanship, for having a 'peace pally' with the NLC, the both parties are Happy now."
On the rate of unemployment in Rivers State….
"Governor Nyesom Wike promised the youths 40% appointment if been re-elected.
now, he has given the 20% and we are waiting for the next 20% in the coming appointment.
As you know, Deputy speaker, Rt Hon Ehie Edison is a Youth, Emeka Onowu and many others are all youths. Even in Local Government council, so many Local Government chairmen are young people. Many house of assembly members are youths.
If the Young people are given such position, they should look at other younger ones and empower them."
"On the issue of employment, it's a general issue in the country lavishing the entire country.
Rivers State government is working on something.
Before you start to employ people, there must be vacancy.
You can't just start to employ people like that. There are steps.
The governor is still on seat and will employ good number of the youths before 2023.
Am very close to the State government and i know the government will do something on employment in Rivers State."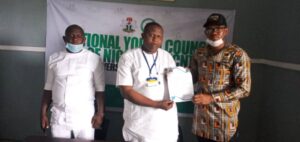 On the need for South East and South South to work together for a common goal.
"Am in a close communication with my colleagues in South East (youth leaders).
We must come together.
The road from Eleme junction to Enugu is very bad….
We are forming a strong coalition among the South East and South South to fight the marginalisation in the region.
By 2023, the youths will decide who will lead us in this country.
We will not allow miscreants to rule this country again.
I urge Edo State not to allow politicians use them for thuggery in the coming election in Edo State." – Amb Chijoke Ihunwo.
Amb Chijoke Ihunwo is nominated for Youth Personality of the year in the prestigious 2020 DMOMA Award together with other youths in South East and South South.