Real Reason Why EFCC Magu Was Arrested.
There are some major reasons why Magu was arrested for questioning.
One of the reasons is ‪based on the Auditor General of the Federation, over N360bn missing from 2017 audited report. That's close about $1bn. Making Buhari and Co Nig LTD maybe liken to be more deadly than Hushpuppi. ‬
Another good reason is that ‪Magu is seen as Tinubu, Osinbajo & co loyalist. 2023 drama is going to be very interesting.
Recall that IPOB leader Mazi Nnamdi Kanu has earlier raised alarm over the severe corrupted practices of EFCC magu and demand release of Olisa Metuh. He is considered as one of the people exposing EFCC bad practices to the world.
– Panel Summons Magu for serious questioning.
The Acting Chairman of the Economic and Financial Crimes Commission (EFCC) Ibrahim Magu has been invited before a panel probing the activities of the agency.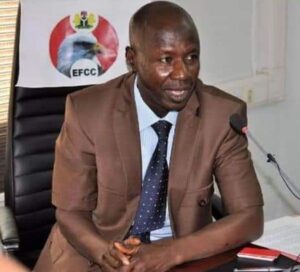 The panel is said to be sitting at the Banquet Hall wing of the Presidential Villa.
Magu was stopped in traffic while moving out of the Wuse II Annex of the EFCC in Abuja and the invitation was extended to him.
Although Magu was on his way to the Force Headquarters, he pleaded with an officer from FCID who met with him to honour the scheduled appointment.
But he was told the invitation by the panel was more important.
At about 1.35pm, Magu arrived at the Villa where he was ushered into the wing.
As at Press time, Magu has been joined at the Villa by his lawyer, Mr. Rotimi Jacobs.
A source said: "Both Magu and Jacobs are now in an office in the Banquet Wing of the Vila.
" He has not been arrested by any of the security agencies. We are awaiting further development. "