Mayor Victor Ihunwo projects.
Gov Wike has never tempered with our LG allocation – ALGON chairman Mayor Victor Ihunwo revealed as he flag off construction of Rumuwoji market at Urualla, Port Harcourt.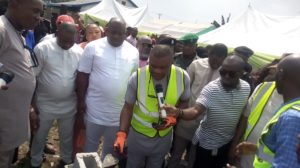 The Port Harcourt City Mayor, who is also the chairman of the Association of Local Government chairman of  Nigeria (Rivers State chapter) Hon Victor Ihunwo Nyeche JP has showered praises on Gov Wike Nyesom Wike of Rivers State. Hails him for his transparency in the Rivers State Local Governments Allocation, says Gov Wike has never tempered with any of their revenues.
This he revealed during the flag off of the construction of Rumuwoji Market at Urualla, Diobu, Port Harcourt.
He emphasized on the need to do quality projects in the local government. Below is his statement.
"….We are not flagging off this project for people to see us that we are doing projects, No!
We do qualitative useful projects, projects of quality that will solve the needs of the people. So projects is what we embarked on"
"This Rumuwoji market at Urualla will help to reduce illegal street trading and boast the commercial capacity and the economy of the local government "
"As a council chairman and ALGON chairman, Gov Nyesom Ezebunwo Wike has never tempered with our LG allocation, the revenue comes to us from Abuja umtempered. Kudos to His Excellecy, Gov Nyesom Ezebunwo Wike."
"I commend the Rumuwoji people for being peaceful with the contractors. And I want the contractor to improve on the size and quality of this project. The children of this community will be carried along on this project but we will not allow any boys or group to impede the progress of this project "
"We are committed to deliver quality projects in the Local Government area…and that we should do " – Mayor Victor Ihunwo Nyeche.
The leaders and principal officers of Port City LG were all present in the the flag off/ Laying blocks of the market including the Deputy Mayor of the Council, Mrs Marian Fiberesima(whose birthday is today), the state lawmaker representing Port Harcourt City state constituency 3. Hon Azeru Opara, councillor of the ward, Mayor's principal officers, supervisors, aids and gentlemen of the press.
The Urualla/Rumuwoji market is a 24hours market with 130 standard market lines, with equipped clinic, police check point, cold room and continous water system to service the market.
Recall that Dez Mayorz Nigeria media earlier reported the various projects and commitments going on in Port Harcourt City Local Government Area flagged off by City Mayor Hon Victor Ihunwo Nyeche JP (Excess power).
DEZ MAYORZ Report.