Appunto Shuga.
22 Artistes Set To Perform At Appunto Shuga Event, a port Harcourt City event with much sugar, swag and sauce.
22 Artistes are now billed and set to perform at the forth coming Appunto Shuga event happening at The Arena Event Centre, GRA, Port Harcourt on the 13th of September, 2019.
The Convener of the event, Mr Isaac Utere while speaking with PROFJASBLOG team on Sunday said this event is going to be a massive one as 22 performing Artistes will be showcasing their talents and also 37 Halogen Awards will be given to some respected sons and daughters who have contributed immensely into the entertainment industry in the city and who have impacted positively to the growth of the industry.
Mr Isaac Utere said the event is going to witness an 100% Port Harcourt content as it has never happened before now. The longest and intimidating red carpet of about 120feets background is also going to be used during the event.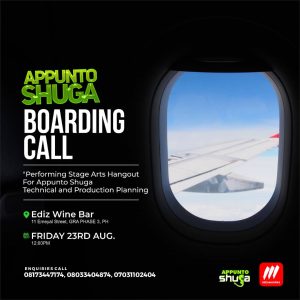 Speaking further with our correspondent, Mr Isaac Utere said said more than 150 pieces of lightning and effects will also be mounted to illuminate the event for a better and quality video output.
Several awareness has been created in order to register Appunto Shuga to the minds of Rivers residents, creative minds, entertainers, stakeholders, fans of MediaWorks and yet to be fans and the feedback has been more than expected.
In his words, we are expectant that Appunto Shuga will be a massive event of the year and it's going to be a yearly event. We assure you that myself and my team, led by Mr Ichie Wealth has been through a lots of rigorous planning, consultation and setting up things for the success of this event.
More than 20 media houses are going to grace the Red Carpet to showcase the event to the globe.
Source: PROFJAYSBLOG.