Port Harcourt Catholic Choir Set for a Mega Musical Concert.
Catholic Diocese of Port Harcourt.
Catholic Choir Council Port Harcourt Deanery.
The Dean, Chaplain, and the Entire PHDCC.
Cordially invite the general public to her,
MUSICAL CONCERT.
tagged: An Evening Of Hymns.
Date : Sunday 8th September, 2019.
Time: 2pm.
Venue : Compus Et Sangius Christi Cathedral, Dline Port Harcourt.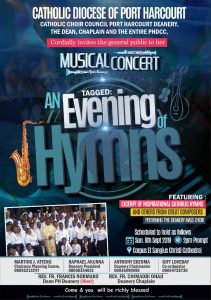 Featuring : Excerpt of inspirational Catholic hymns and others from great composers.
Preforming, the Deanery Mass Choir.
Rev Fr Francis Normako (Dean, Port Harcourt Deanery) Host.
Rev Fr Chimaobi Ohaji
(Deanery Chaplain).
Come and be richly blessed as you experience amazing classic songs and hymns.
Media : DezMayorz.org