Rivers State Entertainment Stakeholders Blue print.
Every state is working hard to eradicate cultism and kidnapping in the state, and one of the best way to curb is through youth forum support, youth empowerment and job creation. Entertainment Industry is an industry that is predominantly youths with so much talent, energy and enthusiasm.
Rivers State Entertainment Stakeholders marched a 4 hours solidarity movements to the government house of Rivers State to present their plea to the governor and also to congratulate his re-election victory.
Below are the 10 powerful intelligent points the Entertainment Stakeholders told Gov Nyesom Wike (Mr Project), which are very alluring that Gov Nyesom Wike can not resist or refute but embrace for the betterment of Rivers state youths, tourism, culture and entertainment.
1. Request enabling environment and interface between the Rivers State Government and the Entertainment Stakeholders, where the governor and the stakeholders will interact ( like a town hall meeting with Entertainers).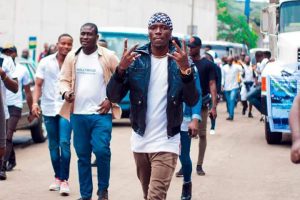 2. Platforms. International standard Entertainment Village.
3. Franchise. Establishment of standard State owned or franchised Entertainment Television stations in the state.
4. Request for more Rivers State sponsored International standard event and concert.
5. Access to grants and interest free loans to enable Rivers State produce standard contents like Cinema movies, music video, promoters and bloggers page ads.
6. Enactment of Rivers State Entertainment Advancement bill which will be past into law, to compel or encourage multinationals to partner and endorse Rivers State based brands.
7. Tax rebate.
8. Creation of ministry or agency that would directly over see the affairs of the Entertainment stakeholders headed by a practitioner of the sector.
9. Yearly Carnival or any related yearly Entertainment functions.
10. Congratulate Gov Nyesom Wike re-election victory and thanked him for the world class Port Harcourt Pleasure Park he built in the state.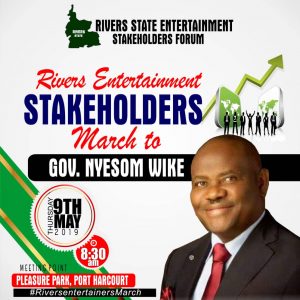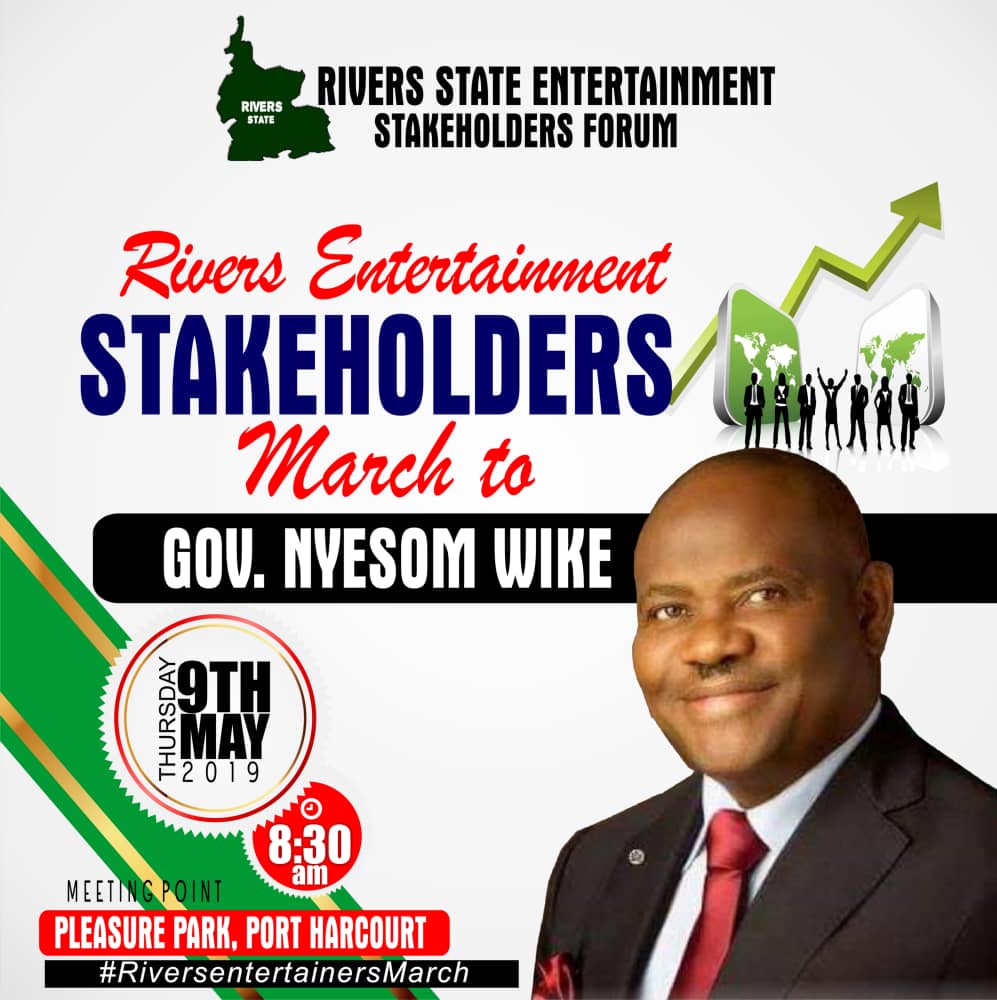 When Rivers State Entertainment is booming, it will attract investors to the state, create more job opportunities to the youth and curb cultism and kidnapping.
Check the Official release below.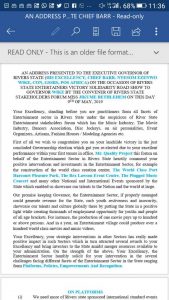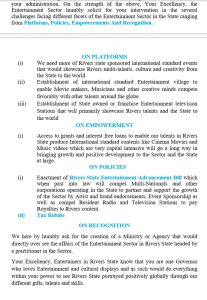 The people of Rivers State have praised the Rivers State Entertainment stakeholders for their sensational road show to Rivers State government House.
Calling it a sensational movement, well organized, entertaining and alluring.
"I love their composure and style, very entertaining. They should keep it up. I wish I am one of them" Janie Ihunwo  Road side spectator told DEZ MAYORZ.
SPAR road side taxi driver blasted Gov Nyesom Wike for not coming out himself to welcome talented hardworking Rivers State Entertainers.
"This is an historic March from the Entertainers. I so much enjoyed the road side performances. My daughter could be a singer you know, because this set of entertainers are smart and learned. I am not happy governor Wike did not welcome them himself especially this period that we need to encourage creativity to curb cultism and kidnapping in the state. Nevertheless, I hope the message get to him as he responds accordingly " – Taxi driver said.
So many Rivers State women and men hailed the Entertainment stakeholders outing and rated them high.
The Rivers Entertainment Industry held a road show March to the government house and to HIS Excellency GOV. NYESOM WIKE, the executive Governor of Rivers State in a solidarity Visit. On the 9th of may 2019, on a 4hours road march from take off point (Pleasure park) to the government house.
This involved all sectors of  the Entertainment industry; including the bloggers, Movie Industry, Music Industry, Fashion Designers/Modelling Agencies, Event Organizers, OAPs, Dancers, DJs, Hoteliers, Artisans, Etc And All Operating In The Entertainment Sector And All Lovers Of Entertainment In Rivers State embarked on such historic march.
So many Nigerian brands were present on the road.