Hon Chinyere Igwe Port Harcourt.
Hon Chinyere Igwe celebrates Gov Wike victory ahead, as Amaechi APC adopts AAC.
The lawmaker elect for the Port Harcourt Federal Constituency 2, Hon Chinyere Igwe joyously celebrates Gov Wike victory ahead of the Saturday Gubernatorial election, as he campaigns in Ward 10 and 18.
DEZ MAYORZ Nigeria reports.
In his speech, during the PHALGA Federal constituency 2 campaign in Ward 10, he told the opposition parties especially the APC that it's all over for them.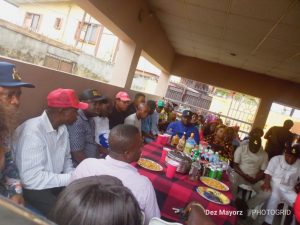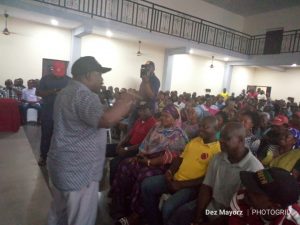 "I thank ward 10(and 18) for voting for me during the last Federal House of representative election. Thank you."
"We will continue to celebrate our victory now, on Saturday and forever more. We are not mourning, we are victorious "
"If they like, let them join AAC, ADP, or APC, it won't work. It's over for them. It is 'petem!' "
"PDP will win. Gov Nyesom Wike will continue his good work in second term. The masses love him, he is the man of the people."
"Our campaign is a celebration campaign. This Saturday, we will finish up what we started with Gov Wike and Azeru Opara victory " – Hon Chinyere Igwe.
Dignitiares that campaign for the campaign include: Port Harcourt Mayor Victor Ihunwo, the House of representative member Hon Blessing Nsiegbe, the house of Rep elect Hon Chinyere Igwe, former Mayor of Port Harcourt Hon Sunny Ejekwu, Hon Azeru Opara, SA to gov Wike Hon Azubuike Mmerunkini, PDP PHALGA chairman Hon Ikechi Chinda, among so many others.
Few days ago, Hon Chinyere Igwe was declared winner of the Port Harcourt Federal constituency 2 by INEC Official in the just concluded Federal and presidential election.