Gov Wike.
#ThePerspectives
Second Term: Youths will take 60 percent of appointments says Governor Wike
Rivers State Governor, Nyesom Ezenwo Wike has declared that Sixty (60) percent of appointments during his second term would be reserved for the youths.
Speaking during a meeting with youth leaders from all the wards of Rivers State at the Rivers State PDP Campaign Office, Governor Wike said that his second term would be used to groom youths for leadership positions.
He said: "When we return for our second term in office, the youths will take 60 percent of appointments. The elders have had their day during the first term. The second term will be for the youths.
"We will groom youths who will take our state to a higher level".
The governor added that youths will play a key role in ensuring the victory of the PDP in the forthcoming general election. He said Rivers youths should stand up to defend their votes every step of the way.
He noted that the PDP Campaign will focus on reaching everybody at the grassroots, hence the declaration that every politician must deliver his/her polling unit.
"I have said no more leader at the Local Government and ward level because we are taking power to the units. Everyone should take responsibility for his/her unit", he said.
The governor urged the youths to protect their permanent voters cards as the APC has set up a committee to steal the PVCs.
He added that during his second term, his administration will expand women and youth empowerment opportunities across the State
Governor Wike called on the youths to work for the victory of Atiku Abubakar at the polls, saying that the state stands to benefit nothing from the Buhari administration.
He noted that the key position of the Minister of Transportation in the Buhari administration has been of no benefit to Rivers State.
The governor said the marginalization of Rivers State would worsen should Buhari get a second term.
He reminded them that as a Minister during the Jonathan administration, he attracted key projects to Rivers State, despite having issues with the Amaechi administration at the time. He said that Amaechi has no reason not to attract projects to the state.
Governor Wike added that even the Former Rivers APC Factional Governorship aspirant who claims to be a billionaire businessman has no investments in the state.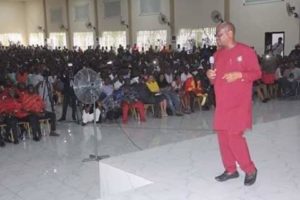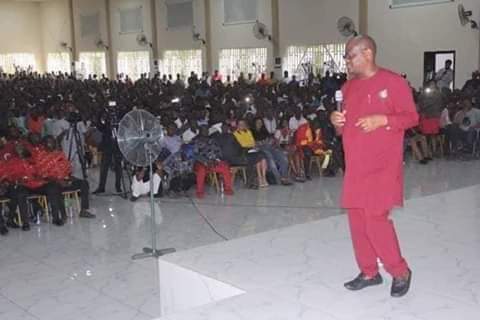 Highpoint of the meeting was an interactive session between Governor Wike and the youth leaders.
Simeon Nwakaudu,
Special Assistant to the Rivers State Governor, Electronic Media.
14th January, 2019.