Csplendor music.
Southern Nigeria sensational Rnb singer, Csplendor, has dropped a table-shaking letter to politicians in Nigeria as the 2019 elections approaches. The Vipsound artiste hush hush letter reads:
Dear Politicians, irrespective of your political divide, Religion or Culture, If your Heart is Still Working, Here Are Words From my Heart You Should Never Forget:
(1)Never Forget that No Matter How highly placed you are, You are answerable to God
… FEAR GOD…
(2)Always Remember that You are human Like me and the rest of the People in the world.(You no dey Use Battery, Na blood dey Run inside You)..
YOU ARE MAN not ALIEN..
(3)Know That if your Vision is not Geared Towards SERVICE TO HUMANITY it is Both Selfish and a scam…
.. FILTER YOUR INTENTION..
(4)Try your Best to Always do the Right things While you are Alive, So we don't have to lie in Your Funeral or End up Spitting on Your Grave…
. DONT WASTE LIFE..
(5) Always Remember that You Cannot Write An Exam and Still Score Yourself..
LEARN TO CONCEIT DEFEAT.
(6)Remember That it is Better to Put a Smile in the Face of a Man than to Make Him Cry.
..SHOW LITTLE KINDNESS..
(7)Live Your daily life Free from Political Jealousy, Rancour and Animosity..
.. PROMOTE PEACE and DEVELOPMENT..
(8)Please, Remember To Share this Piece to your colleagues(Both Superiors and Subordinates) ..They might appreciate it more.
..BE LIBERAL..
God bless Our Rivers State,
God Bless Our Nation Nigeria.
Thank You.
Yours Sincerely,
CSPLENDOR.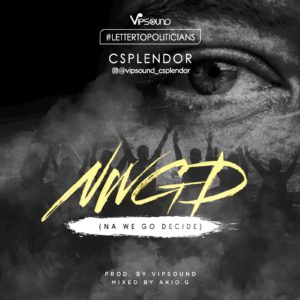 Download the audio below,produced by Akiyo G and decide what you want.