Rivers State politicians .
The post below was written exactly one year ago, today, by my brother Wordshot Amaechi Ugwele. It has not lost its taste even after 52 weeks.
RIVERS STATE: Wike, Amaechi and Abe's Current Wisdom.
I am not from Rivers but I had lived in PH all my adult life, to know what is going on, until recently I was called to service in my own state, Enugu. I am interested in Rivers politics, just like many other Southerners because of the role the State through Governor Amaechi had played in the loss of the presidency by Jonathan.
The few supporters of Amaechi that are left are hitting their heads hard on the uncompleted monorail pillers, against Magnus Abe they felt is betraying Amaechi and is now biting "the hand that fed him". Please, how did Amaechi feed Abe? Both Abe and Wike, just like Amaechi had their different respectable standings in the political activities of Peter Odili days in Rivers State.
While Amaechi as a former PA to Odili as the Speaker held the House for him for eight years, Wike had been Local Government Chairman of the very rich and highly influential Obio-Akpor LGA. Abe on his own was a member of the House of Assembly that was both vocal and cerebral. When he decamped from APP Odili gave him the position of Commissioner for Information.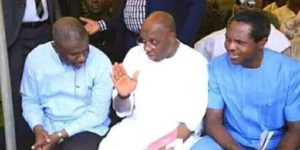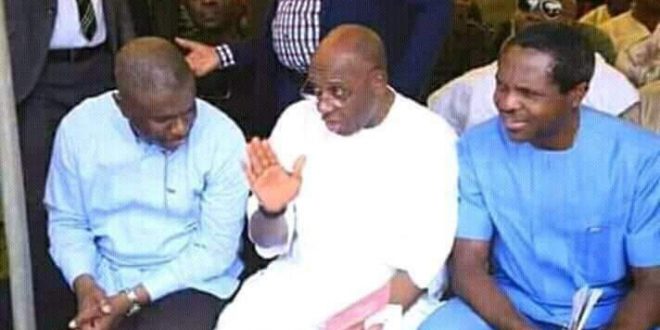 It was there that they found good company in one another and would stand firm by Amaechi when he ran away to Ghana when he fought for his PDP nomination. Wike having held the position of LG Chairman was both richer and more influential than Amaechi until about Amaechi's second term in the House as Wike and Abe, just as Abe had said, were those who fought tooth and nail to straighten his "K-leg" and also fought for his Supreme Court victory. While Wike fought in all fronts, Abe delicately fought from within the government.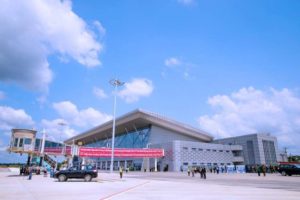 Amaechi never wanted both Wike and Abe. And I'm not surprised that while Wike knew this, Abe, being a too trusting, urbane gentleman he is, mistook the green mamber in the grass by his foot for a harmless rope. Their offences? Wike was too strong and Abe was too intelligent. Abe was charismatic and easily likeable. Wike was fearless, dogged and has no reverse gear!
Amaechi feared these hence he empowered Peterside by appointing him Works Commissioner that gave him both money and visibility. And against every expectations and common sense, he went ahead and rather than Abe gave the ticket to Dakuku Peterside. That was the time the height of Amaechi's obstinacy was off the bar and scale of common sense. He was suffering from the worst case of Christ Complex; delusion of grandure, the type that would frighten even Obasanjo himself.
I had earlier on, before the emergence of Peterside reached out to Abe and told him he would never fly with Amaechi and should thus find his way. He told me every power belonged to God and that he must be loyal to the party (APC) leadership in the state. I then told him that while nothing was beyond God, God did nothing to change a foolish course we deliberately chose, and wished him a sad good luck. I further warned that if care was not taken, he might never get back to the Senate.
As it were, Abe took a rubber bullet for Amaechi in the streets of Port Harcourt and was nearly blinded by teargas at the Abuja head office of INEC. I further warned him Amaechi would be wishing the police had fired a live, iron bullet on him. He still didn't understand and felt he must follow him and Peterside "loyally". As happened, Abe got back to the Senate by fighting with the skin of his teeth. He was lucky to be very popular in Rivers West Senatorial District. Otherwise, Amaechi once again abandoned him to his fate and went with Akin Fakorede of FSARS to help out Andrew Uchendu in Rivers East, where the FSARS infamous video of an electoral heist of the century was recorded.
I chose to take this time to delve into this, to once again warn my friend, Abe, I admire and love so much, to stop dancing the Amaechi drums as they sound so deathly for his career. The truth Abe should accommodate painfully in the short term however, is also that Wike will do his second term. Nothing and nobody but God can stop him.
Amaechi has never and would never be more popular than Wike since his defection to APC. Whoever thinks Rivers people would not remember what he did to scuttle their national interest, in being the major war horse that pulled the battle chariot against Jonathan, is being hopelessly naive. He knows hence his conciliatory remarks towards Wike lately with the coming implosion in the APC and the words of Governor Shettima come through, about him being an expendable to be discarded once he's gone beyond his political usefulness to the North comes through.
It's, I mean, his chumminess to Wike, is useless, as APC is useless as a political asset to anyone in the entire Southern parts of Nigeria. Finally, Abe should be wise and get into early negotiation and understanding with Wike. He could aspire for the Brick House after Wike's second tenure. And he has a good chance. But only then. So, let him for once be wise.
#IamWordshot