Barry Mpigi, the choicest candidate for Rivers South East senatorial seat (Wikematics Ogestar Obiwali post).
The emergence of Barry Barinada Mpigi as the PDP flag bearer for Rivers State south East senatorial district was the people's will for a better and more effective representation of the
people of south east senatorial district of Rivers state.
This innovative man loved by his people of Rivers State for his vision, generosity, youth empowerment, women empowerment and outstanding leadership quality.
Hon Barry Mpigi, a graduate of the University of Port Harcourt, is a progressive politician from Rivers State, Nigeria.
He is currently a member of the federal House of Representatives, representing the constituency of Tai–Oyigbo–Eleme. First elected in 2011, he was reelected for a second tenure and he is on his way to the upper legislative chamber come 2019.
HON. BARRY MPIGI ON A RESCUE MISSION 2019.
The good people of Rivers South-East have made their choice and Hon. Mpigi was freely given the mandate to bear the flag of our prestigious party, (the PDP), there is no point causing unnecessary tantrums, we all know that Hon. Barry Mpigi will deliver snd liberate our people from the shackles of poverty.
At this point, it's imperative that people come together and work to ensure that he gets to the peak, whatever grievances in the past, should be abandoned and work for the collective interest of the people.
The high rate of insecurity in the society today is a clear point that we need a man with an extraordinary prowess to represent in the NASS.
Hon. Barry Mpigi is a man with great impulse, he has a proven capacity that will drive our senatorial district into a development hub. Let us key into this opportunity of leadership and make a good choice in the forthcoming General elections.
The Barry Barinada Mpigi Movement has come to re-orientate our people especially the youths on the need to shun violence and cultism which has crippled development in our society, it's of great importance to note that Rivers South-East is blessed with people of great potentials but improper sensitisation and misinformation has made us live in absolute fear of the unknown.
The time to change the narrative has come and we urge people to embrace this once of a lifetime opportunity, Support Hon. Barry Mpigi for a working representation.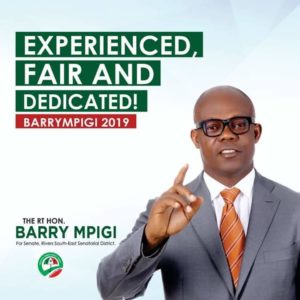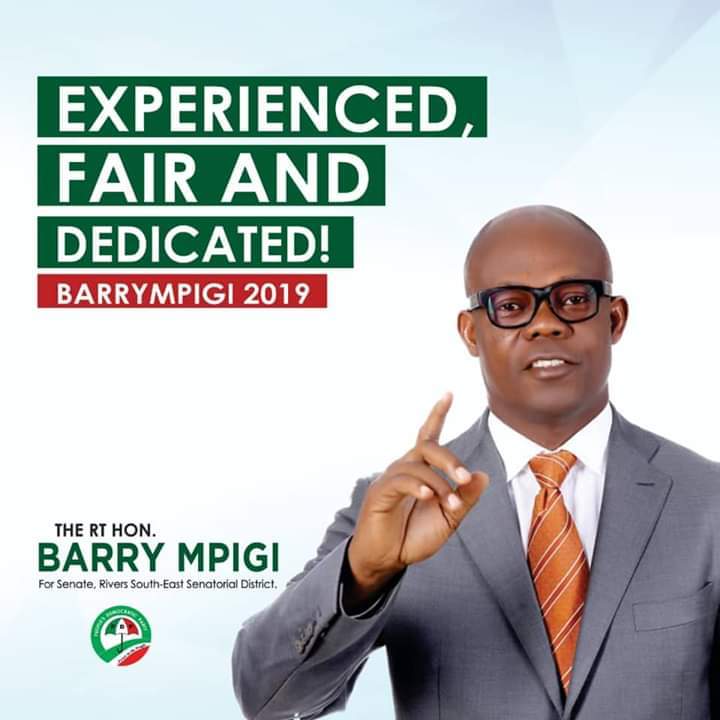 A support for Hon. Mpigi is a support for quality representation, think of the future, think of the children, think of people living on the street that has been savaged by poverty and lack of mentorship, the time has come for us to shun grudges and elevate the living standard of the people through a man that has been ordained to lift us.
Come and join the steaming political trend, it's not about Mpigi, it's not about the PDP, it's about the people and the future.
Vote Hon. Barry Mpigi for Senate Rivers South-East 2019.
This post is compiled by Wikematics Ogestar Obiwali and published by DEZ MAYORZ NIGERIA.a