Fr Chimaobi.
Why Fr Chimaobi -Igwe Ka Igwe (Music video) is a video to watch on Easter.
One of the best gospel music video in west Africa, sang by Fr Chimaobi Casmir Ohaji will be out for your visual on 1st April (Easter Sunday). The song titled IGWE KA IGWE (King of Kings) is already picking momentum and being talk about by Catholics and Christians across the Southern Nigeria.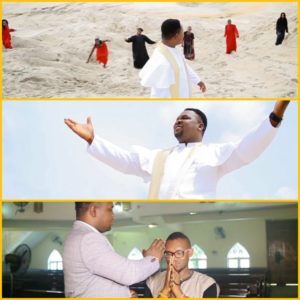 The combination of the audio produced by Pentouch and the video shot by Taru Film (Taru B Yinka) produced a visual video that everyone will enjoy to watch again and again and be inspired.
The music video is a typical soul touching visual inspired to glorify God the King of Kings, whose power is the most powerful- as demonstrated on the video concept. A visual that will uplift your spiritual being, the song can be used everyday in your prayer life.
The video promotes catholic faith, the blessed Sacrament, and the power in priesthood.
The tip top dance by cultural dancers fused with young children, completed the video as a video to watch by all, irrespective of your faith.
The video was shot somewhere in Eagle Island, Port Harcourt and St Vincent de Paul, Elechi, with Dez Mayorz, Jojofalani and Prof Jay online media all there to cover behind the scenes.
Anticipate the video!
Song title – Igwe ka Igwe. (gospel).
Artiste – Fr Chimaobi
Director – Taru B Yinka.
Custome/make up artiste – Flavia Dee.
Dezmayorz.org post