Pentecost Tax: You Are A Disappointment To Christianity – David Ibieyiomie Tells Politician.
Dez Mayorz Report.
The lead pastor of Salvation Ministry Home of Success, Pastor David Ibieyiomie has cautioned political Christians who come on pastors and churches in Nigeria, told them to focus on insecurity and Naria collapse in the country.
This he said during Salvation Ministry's second service at Port Harcourt Headquarters.
He said that it's a total disappointment for a person who is supposed to defend Christianity is rather attacking the church in the name of Tax.
He said 98% of pastors in Nigeria are poor and struggling and that even though he and Pastor David Oyedepo pay the so-called tax, it will not put to end the insecurity in the country nor save Naira from its ongoing collapse.
David Ibieyiomie further said that it's appalling that the person has never one day condemned the killings of Christians in Nigeria but always quick to attack Christians and churches.
He cautioned him that he will fail if Christians who are always praying for him turn against him.
He advised the Politicians to stop embezzling public funds and focus on the insecurity and naira collapse that is killing the country.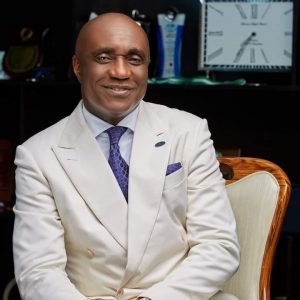 Although in all his statements, David Ibieyiomie didn't call anybody's name. Dez Mayorz Media can recall that the Vice President of Nigeria, Prof. Yemi Osinbajo, on Friday charged preachers as well as Christians to pay their Pentecost tax.
Osinbajo gave the charge in Lagos during the public presentation of a book titled, "Kumuyi, Defender of the Faith",
Osinbajo said that the Pentecost tax was meant to instruct people in adherence to sound doctrine, to rebuke and to instruct people righteousness.
"This Pentecost tax is one that we must all pay, it is one that men and women who6 preach the gospel must pay. It is not about personal reflections, It is not about personal aggrandizements. They owe an obligation. It is that obligation that has produced the book of Acts.". – Osinbajo.