Rivers State Governor Nyesom Wike has cautioned the federal government to adhere strictly to the rule of law in the prosecution of Biafran separatist leader Nnamdi Kanu and ensure it allays the fears of citizens that his prosecution is not done to target the southeastern region of Nigeria.
Mr Wike said the government must also arrest Miyette Allah too.
This he said in an interview with Arisetv and monitored by Dez Mayorz Media.
The Rivers Governor stated this on Thursday when he featured on ARISE News programme, The Morning Show, demanding that the federal government ensures bandits, Miyetti Allah and all other criminal elements causing similar security threats should be brought to book.
Dez Mayorz Media reported that Kanu was arraigned again before a Federal High Court in Abuja before Justice Nyako after being kidnapped by the Nigerian Government in foreign country.
Justice Binta Nyako ordered Mazi Nnamdi Kanu detained until July 26, 2021 for continuation of trial.
The southern Nigerian especially people from the South East part of Nigerian Condemned his arrest, while fulani part of Northern Nigeria celebrate his arrest.
The British government had already made statement, said they will give assistance to their citizen kidnapped by Nigerian Government.
Israel and other countries have rallied support for the Biafran freedom fighters.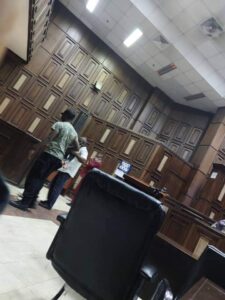 The Federal Government has arrested the leader of the Indigenous People of Biafra, IPOB, Nnamdi Kanu.
The Attorney-General of the Federation and Minister of Justice, Mr. Abubakar Malami, SAN, who made the disclosure to journalists on Tuesday, revealed that Kanu was arrested and brought back to Nigeria on Sunday.