One person was reportedly shot when a mob protesting against the Nigeria Agip Oil Company (NAOC) over years of neglect attacked the palace of the Amayanabo of Twon Brass, King Alfred Diete-Spiff in Brass Council of Bayelsa State.
Indigenes of NAOC's host community were protesting against protracted power outage, refusal to pay indigenous contractors and failure to meet its corporate social responsibility (CSR).
Dez Mayorz media learnt that the protest, which began on Sunday, May 16, 2020 and lasted till Tuesday, led into chaos where some youths hijacked the rally and attacked Diete-Spiff, during a meeting with the protesters.
It was also learnt that after soldiers attached to Diete-Spiff, a former military administrator of old Rivers State took him to the palace, the mob still proceeded to attack there.
Dez Mayorz media gathered via Guardian that a soldier shot one person and the mob destroyed some property, after a soldier, who tried to disperse the mob, shot one of the protesters on the leg.
Responding to the incident, the Brass chapter of the Ijaw Youths Council (IYC) condemned the attack on Diete-Spiff, saying it would not condone any disrespect for the monarch from indigenes or foreigners.
In statement issued by its Chairman, Hello Richard and representative of the Ijaw clan, Benjamin Tustin, the group said: "Our attention has been drawn to the shooting of a protester by a military personnel during a peaceful protest by the people of Twon Brass Kingdom in Brass Council against Agip.
"From our findings, the protest, triggered into chaos after some persons hijacked it and started fomenting trouble in the process, which eventually led to the attack on Diete-Spiff.
The group stressed that it had become expedient that the leadership of Brass Clan of IYC should appeal to the people of Brass Kingdom to remain calm and urged security agencies to find the soldier, who shot the protester for necessary disciplinary action.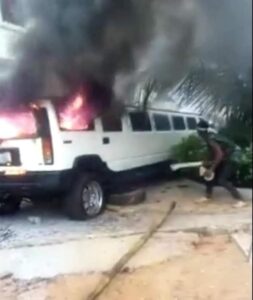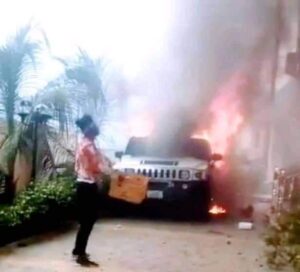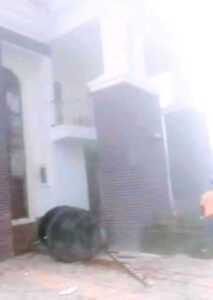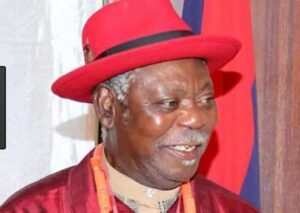 King Diete-Spiff's palace was completely destroyed by angry youths, one person shot.
The 78 year old King Diete-Spiff is unreachable and no one knows his whereabouts.
At the age of just 25 years old Alfred Papapreye Diete-Spiff (pictured) became the first Military Governor of Rivers state (appointed by Gowon when Ojukwu declared Biafra in 1967).