The Young Minds, Seminar For Young Creatives And Entrepreneurs.
Dez Mayorz report.
Date: 27th March,2021.
Time: 9am.
Venue: Treasure Chapel, Fruitful Vine Christian Assembly Int'l,
No. 26 Egbelu Ogbogoro Road, Rumulumini, Port Harcourt.
Registration fee is just #500.
Check artwork for more information.
The Young Mind Seminar, More than just Entrepreneurs.
Below is what the organizer wrote: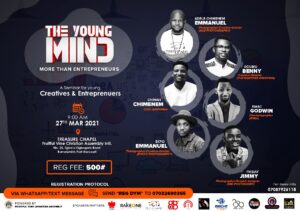 THE YOUNG MIND.
We have come to the realization that the world is drifting into an expandable era, were jobs and opportunities are often created rather and given. A lot of youths and teenagers with bright ideas, passion, dreams and goals struggle with no clarity of their purpose and potentials. This is why a seminar that will tackle all of these misconceptions and challenges has come your way at a time such as this.
The Young Mind just as the name suggest is a one-day event which seeks to inspire and encourage young creatives to persevere in their crafts; teaching them the "How", the "Why", the "Where", and the "When" to go about entrepreneurship.
This seminar is going to hold on the 27th of March 2021, by 9am at Fruitful Vine Christian Assembly Int'l. No. 26 Egbelu-Ogbogoro Road, Rumuelumini, Port Harcourt.
During the course of this event, we will have well experienced guest speakers from different areas of entrepreneurship to handle strategic topics. And also, there will be a lunch break for light refreshment.
To be a part of this event simply pay a registration fee of N500, which can either be via a bank transfer to the account number at the bottom or can be paid onsite to get your ticket, then text "DYM" to 07032690365 or 07087926118.
This seminar will surely leave a positive impact on all participants.
For Sponsorship & Partnership Kindly Contact:
07087926118 or 07032690465
Account Details: 0346537061 (GTB), Ekpo Emmanuel Benson.
Dez Mayorz report