The top-flight southern Nigerian Entertainment stakeholder who based Port in Harcourt Narrates how he met a boy and was touched to help the boy.
Isaac Utere explanation is so emotional that you reading it might have reason to support in helping the boy.
Dez Mayorz Media learnt that more people have joined to buy learning tools for the boy.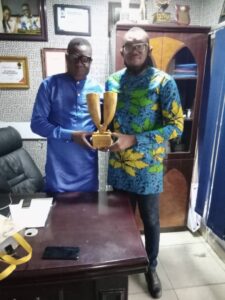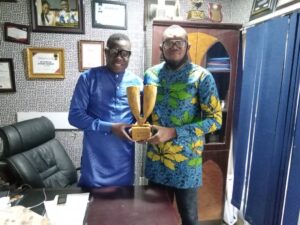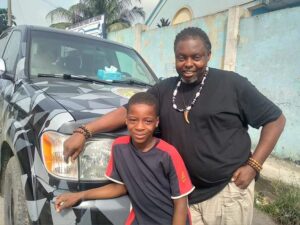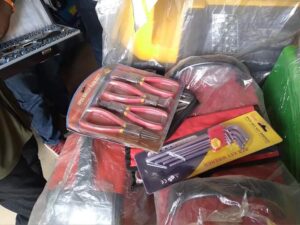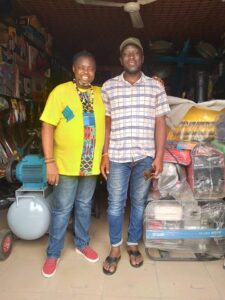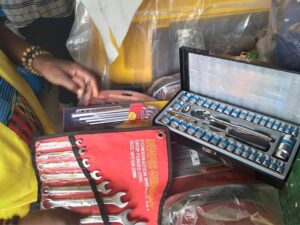 Below is what the Isaac Utere Foundation's boss wrote:
On my way to the Burna Show yesterday something very interesting happened.
The trafic was crazy from Bori Camp to Presidential junction, so I just sat in my jalopy moving one tyre role at a time.
Hawkers were bombarding me with their goods, windscreen cleaners were taunting me with their forceful services, beggars were doing all they can to get my attention.
I'm used to all of this, so I just kept my calm as I rolled on.
Coming in front of my truck was this boy who just ignored my obviousness and passed by with his windscreen wiper.
What caught my attention about him was his resemblance to one of my kids and his teary eyes.
My heart filled up as tears welled up in my own eyes as I watched him pass by.
I tried to get his attention but he was moving on too fast which prompted me to beg a hawker to call him for me.
He came over to my side of the window and I just broke down in my heart for this cute little boy who I just knew could be anything great like my kids if only he has the right opportunities.
This encouraged me to ask him his name , about his family and all I could think of at that time.
I wrote my number on a piece of paper and adviced him to give any of his parents to give me a call, after I had gifted him a face Cap and just 2k, encouraging him to go home for the day.
In my mind I thought that could be the last time I might see or hear from him.
Lo and behold, this morning I got a call with a shout from a strange little voice.. "oga, na me, that boy you give cap and money and your number for road"
For some seconds I was trying to remember who this could be.
I shouted back…"i cant hear you well, who you say you be, where i meet you?
"Oga, the boy na way you give cap and 2000 naira".
It's been a long time goose pimples flushed over me like it did this morning.
I REMEMBERED, I shouted back.." I know, i know, where you dey call from?
"From our house for waterlines"
I got excited…"who get this phone you use call me?
With the same shrill voice, he shouted back…"my mummy na" as if I was supposed to have that information before now.
With happiness I got directions to their house, met him, his junoir siblings and mother in their shanty neighbourhood.
It's been a while I had the courage to penetrate that kind of environment I did, this morning.
I spent some time in their tiny home, got to know more about them, their lifestyle and carry ons.
What tripped me about this boy today was, when I asked him why he spends time on the road looking for money cleaning windscreens, his carelrss response shook me…"I dey save to buy bycicle na to ride go school for Vocational Center, Aba road".
He was responding to my questions with a nonchalance expected from a honest good boy.
Hmmmm, I'm liking this boy more.
I asked him why are you in that kind of school…"I want to get handwork so I fit work well well".
Ok, this is getting better.
"So, what is the most important thing you need right now, this moment…"I need to buy tools so I fit learn well well for class like other boys"
Okay! My mind was made up already.
I'm taking this boy as my responsibility from now on, see him through any form of education he needs for now and most importantly, ensure he gets all he needs to succeed in his chosen field of Mechanical Engineering.
One good deep look around them, I came to the conclusion that this boy needs all the assistance he can get.
The mother makes and sells Kunu and other drinks to care and train 5 boys.
Father is a company security man
So much we talked about but it always just ended on how he needs to get tools.and more tools. Not shoes, not clothes, not phone, not money…JUST TOOLS.
Jehovah has sent him to the right man who understands his language…TOOLS AND MORE HE WILL GET FROM ME to actualize his dreams.
He escorted back to my car, kicking things his toes could find, walking with that same one side hurtful bent from injuries he got from a car rolling over his foot.
My prayer is that God should sustain me with this current state of mind to make a difference in this boys life, which I know I have the capacity to do.
Most kids just need a little of the surplus we dont even take notice of.
ELIJAH is going to get all the attention, love, desciplie and interest Jehovah is going to pass to him through me.
_
#portharcourtspecials