How Port Harcourt City Enjoyed GSN' s Witty Wednesday Comedy Show.
Port Harcourt City was thrilled in GRA with top-flight comedy club show titled 'Witty Wednesday'.
It's a comedy show organised by GSN every third Wednesday of the month in DWEC, Karaoke Sports bar(De Planet), Port Harcourt City.
The February month edition was a top-notch with amazing performances from Mudiaga, Akpan Okon, GSN, and others, as people all enjoyed themselves with laughter.
Many Port Harcourt celebrities were in attendance including:
Julius Agwu, McSenator, Churchill, Adviser, Holy Shrine, Sonofman, Honest Akpos, Smartdon, Kobaba, dj Clergy Chris, Omo Jesus, Danny spry, DJ spiff, King d comic and Lucky nwobo among others.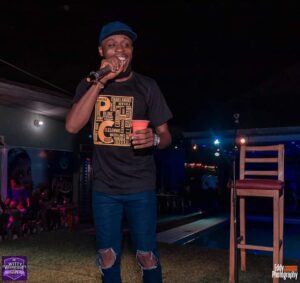 Also spotted was Daniel Okwarra(Decent digital) and Chidiebele Okoye (Dez Mayorz Media).
Witty Wednesday is a comedy club for working class people to unwind and have fun and next month of March is going to be an Open Mic segment where the best comedian goes home with the prize money.
Dez Mayorz report.