National Network Newspaper Drops Press Statement On DMOMA Award.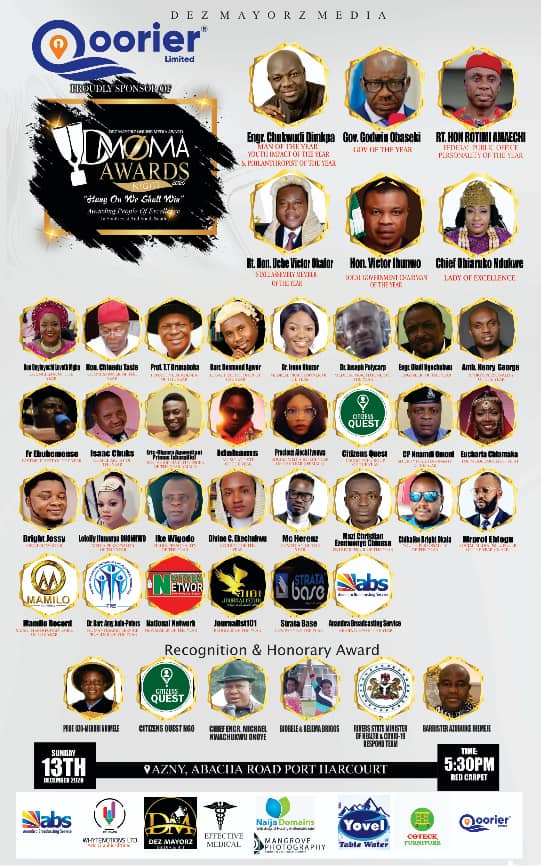 National Network Newspaper Released Press Statement On DMOMA Award.
National Network Wins Newspaper Of The Year Award
…As Rivers NUJ Secretary, Ike Wigodo Emerges Media Personality of The Year
High flying Port Harcourt-based tabloid, National Network newspaper has bagged the 2020Newspaper of the Year Award (Rivers State), courtesy of the 2020 DMOMA Award, in conjunction with Qoorier Limited.
A statement by the organizers, Dezmayorz Online Media Awards (DMOMA) said the award of honour was conferred on National Network as the best and first among equals for the year under review (2020) alongside 50 other winners of various categories of the prestigious DMOMA Award of Excellence.
National Network newspaper and the 50 other awardees, the statement added, emerged out of 1800 nominees for this year's edition of the awards with the twice-weekly sensation(National Network)newspaper emerging as the only newspaper for the Newspaper of the Year Award.
The nominations came from various tribes, including Igbo, Efik, Ijaw, Itshekiri, Anan, Ogoni amongst others in 11 states of the old Eastern part of Nigeria (South East and South-South).
The organizers noted that the DMOMA Awards are for people of excellence from various disciplines and endeavours including Academics, Engineering, Entertainment, Legal practitioners, Medical practitioners, Politicians, Media, etc, from the grassroots to the zenith.
The Publisher of National Network newspaper, Jerry Needam while reacting to the news of the award, described the development as positive, as he noted that the award goes to show that the efforts being put by the media to inform, educate and entertain the populace is not in vain.
Jerry Needam, a practising journalist, who is also the Special Adviser on Media and Publicity to the Sole Administrator of the Rivers State Waste Management Agency (RIWAMA), Bro. Felix Obuah, said the award would spur the entire crew of National Network to always put in their best to sustain the confidence reposed in them by the reading public.
Other winners of the 2020 DMOMA Award include Mr. Ike Wigodo, Secretary of the Nigeria Union of Journalists (NUJ), Rivers State Council who emerged Media Personality of the Year, among others.
The Award Night is scheduled to hold on Sunday, 13th December, 2020 at Azny Theatre Hall, Abacha Road, GRA in Port Harcourt.
Ken Asinobi
Editor, National Network Newspaper.