King David
The much longed for Gospel song is out "MMA MMA" by KING DAVID  produced by Port Harcourt Legendary Music Producer Sectionman.
 KING DAVID( DAVID EDUAFUL) is a Preacher of the Gospel, a seasoned Educationist, the  Principal ALADUMO INTERNATIONAL HIGH SCHOOL(PORT HARCOURT) a Journalist, Author,Singer, Song Writer, a Composer,  an Inspirational singer and a Worshiper of God who has so much Passion for the things of God, above all he loves Praising God.
 KING DAVID is a Native of ABURA DUNKWA  in the CENTRAL REGION OF GHANA who Resides in Port Harcourt City.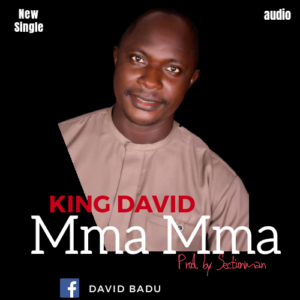 The Song "MMA MMA" is a Gospel Praise Song that Speaks of the Goodness of God in the life of KING DAVID right from his birth till date. It is also a Song that is encouraging Every Living Soul on Planet Earth to give all the praise to Our Almighty God because Only Him deserves it.
Download the audio below.