Obiaruko Ndukwe
Civil Society Group (Citizens Quest) Drums Support For Forensic Audit Of NDDC Book
Civil Society Group known as Citizens Quest For Truth Initiative have declared a total support for the "Forensic Audit" of the Niger Delta Development Commission's (NDDC) book as ordered by President Muhammadu Buhari.
In 2019, the President also reaffirmed his determination to ensure the audit goes unhindered during his National Broadcast on Democracy Day, June 12th 2020 as contained on paragraph 41 of the broadcast, and I quoted him as thus;
"…Furthermore, I am determined to ensure that development meant for the people of the Niger Delta get to them so I have authorised a "Forensic Audit" of the Niger Delta Development Commission, in order to practice a corruption free NDDC upfront."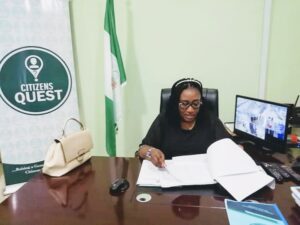 In affirmation to the above statement made by Mr President Buhari; The President of the Civil Society Group, Chief, Obiaruko Ndukwe who appeared on TVC News at 10 from the group National Secretariat in her interview session made the position known.
According to her, the group gives 100% unflinching support to the ongoing AUDIT and will ensure it sees to the end of the entire processes without being biased in it's live reportage.
Citizens Quest is a trusted Civil Society group saddled with the responsibility of advocating for good governance and leadership in Nigeria.