DSS Brutality: How DSS operative chasing after a drunk man shots Teenager dead.
An operative of the Department of State Security Service has shot dead a teenager identified as Kingsley.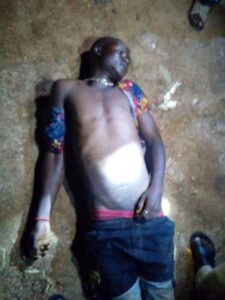 We learnt that the incident happened on Tuesday on Ebenezer street, in Mararaba sharp corner area of Abuja.
The DSS operative was reported to have shot at Kingsley from behind while chasing the drunk man that had hit arguments with his colleague.
The DSS operative had hit arguments with a drunk man who fell over at a provision shop while trying to relieve himself. The provision shop is opposite the DSS housing unit in the area.
The DSS operative slapped the drunk man and the drunk man angrily responded with a frying spoon he picked up from the provision shop. He hit the DSS operative on the hand.
However we learnt, his other colleague on duty brought out his gun and chased after the drunk man. Kingsley was shot from behind while he was running for safety.
An eye witness who pleaded for anonymity disclosed to us that Kingsley was mistaken as the drunk man and everything happened in a flash.