774,000 Jobs: Oby Ndukwe Revealed Why Chris Ngige Apologized To Lawmakers.
The frontier of Citizens Quest NGO, Obiaruko Ndukwe (Oby) has revealed the real reason the Minister of Labour Dr Chris Ngige apologized to the Nigerian parliamentary members.
The lady of excellence, Obiaruko Ndukwe revealed this on her facebook page which read:
ON THE APOLOGY BY NGIGE TO NASS.
I called him this morning and he said, "Oby, I apologized for the altercation between our Ministry and the Committee. It shouldn't have happened. It was unpaliamenterian. As the Minister, I was supposed to be there that day but I had another engagement with the President and I obtained permission not to appear before the Committee. My Ministry went to them, so, we ought to apologize.
The Minister for State has stated the section of the Act that empowered us but we can still make some concessions.
Oby, can't we increase the number of selectors? There is no problem with that."
Me: Keyamo is a product of the law, so, he stood by the Acts of the Constitution. A sound Senior Advocate at that.
Ngige is a Parliamentarian, was in the Senate for 4 years from 2011 to 2015, representing Anambra Central. So, he acted in the spirit of brotherhood, espirit de corp.
-Obiaruko Ndukwe wrote.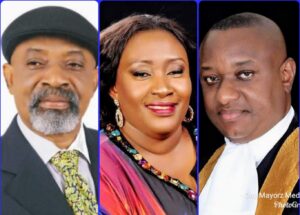 Dez Mayorz Media reported earlier that The Minister of State for Labour and Employment, Festus Keyamo, has described the controversy surrounding the planned employment of 774,000 Nigerians as an attempt by the National Assembly to bypass him in the implementation of the project.
He said this shortly after the Minister of Labour and Employment, Chris Ngige, apologised to the National Assembly joint committee on Labour following a clash between lawmakers and Mr Keyamo over the planned recruitment.
Fifty-two billion naira has been allocated for the Special Public Works Programme in the 2020 budget. It is aimed at employing 774,000 citizens, a thousand from each of the 774 local government areas in the country.
Mr Keyamo accused the lawmakers of wanting to sabotage the recruitment process despite receiving 15 per cent jobs slots.