COVID-19 Automatic Disinfectant : Port Harcourt Mayor Launched the Up and Down tunnel in Port Harcourt City Secretariat
As coronavirus continues to spread the Mayor of Port Harcourt City Hon Victor Nyeche Ihunwo JP has put in place Disinfection tunnel walking Machine.
The step is to help reduce the transmission.
And help prevent the transmission of coronavirus.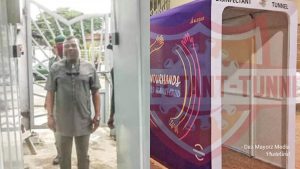 The Mayor of Port Harcourt Hon. Victor Nyeche Ihunwo JP is doing everything in his power to curb the spread of the virus. He has warned Staffs and everyone visiting Port Harcourt City Council to wear mask. Defaulters will face the consequences of their actions.
Port Harcourt Mayor Victor Ihunwo Nyeche JP is known as a man of projects in Port Harcourt City and the entire people are happy for him.
11/6/2020