COVID-19: 10 States That Will Go On Total Lockdown Again.
It's crystal clear that COVID-19 is still increasing in Nigeria and another Total Lockdown in major states is inevitable.
Owning to the fact that the federal government had ordered the total closure of some activities and sectors in bid to curb the spread of the coronavirus pandemic, for some months now.
Dez Mayorz reported, a few months ago, the federal government had ordered the reopening of some business sectors but fail to lift ban on the closure of schools and interstate movements.
Recall that the president also ordered states to lift ban on religious centres with conditions and also on democracy day granted power on all state governments to lift the lockdown on their respective states but the Lagos state government had refused to lift ban on religious centres due to the persistent increase in the COVID-19 cases.
However, COVID-19 cases in some states as well is quite alarming and disheartening as the federal government shows concern, and would do everything possible to see that the deadly virus is put on hold.
According to the statistics of the COVID-19 in Nigeria as of 28 June 2020, we already have over 24,000 cases, this is officially reported and recorded by the NCDC.
These listed states may be forced to impose lockdown by the government if the contagious virus continues to increase at this rate.
Lagos, FCT, Oyo, Edo, Rivers State, Delta State, Kano, Kaduna and Ogun State are States to likely go for another lockdown if the situation continues.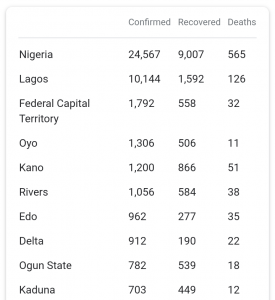 All the residents of the aforementioned states are advise to be well prepared as the federal government may make that effect starting from tomorrow.
It us quite obvious only a second lockdown can ensure the decrease in number of cases.