Bua Cement Company
COVID-19: Bua Cement Company Donates Ambulance To Rivers State Government.
-Governor Wike urges people not to be ashamed of their COVID status.
Bua Cement Company donates Modern Ambulance vehicles to the state government in support to the fight against COVID-19 in Rivers State.
Rivers State Governor Nyesom Ezenwo Wike has urged people not to shy away from the testing and treatment of the CoronaVirus as it is not a result of any wrong doing and can be gotten by anyone.
DEZ MAYORZ Media gathered via Governor Wike's Media aide Marshal Obuzor that the Rivers State Government House recieved a donation of three Covid-19 Life Support Ambulances from the management of Bua Cement Company represented by its Executive Director, Mr Kalifa Isiaku Rabiu.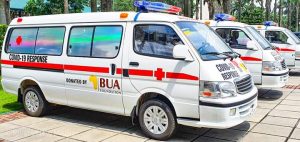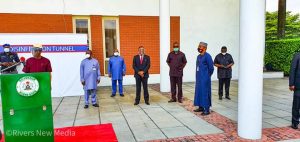 Government appreciated Bua Group for identifying with Rivers people and restated the Government's commitment to creating an enabling environmemt for businesses to thrive.
Earlier, DEZ MAYORZ Media reported that One Hundred Million Naira (N100,000,000) and a truck load of Four Thousand (4,000) cartons of pasta to the State Government.
The Rivers State Government had provided the Covid team with 40 Ambulances out of which 28 were life support Ambulances. The life support Ambulances are Ambulances with sealed compartments that can accommodate the life support and treatment of Covid patients.