Soni Ejekwu
Written by : Ichemati Ezebunwo (Port Harcourt).
THE RIVERS STATE COMMISSIONER FOR TRANSPORT TODAY EMBARKED ON A TRAFFIC CONTROLLING EXERCISE ON NOTABLE ROADS AND JUNCTIONS IN RIVERS STATE.
By Ichemati Ezebunwo.
As the world continue to wrestle with the Covid-19 pandemic, multiple measures have been taken by the Rivers state government to cushion the effect of the virus on the masses and ensure their safety.
One of such measures is the deployment of the Rivers State Road traffic marshals by the State Commissioner for Transport, mandated with the task of ensuring orderliness and returning sanity to our roads.
The Rivers State Commissioner for Transport Hon. Sam soni Ejekwu accompanied by the Ministry's Traffic Marshals visited major roads and junctions known to be flashpoints for traffic gridlock with the sole purpose of controlling traffic to allow a free flow of vehicular movements. The roads visited are Ikwerre Road, Ogbumnuabali Road, Dline and its adjoining streets, Olu-Obasanjo Road, Nkpogu Junction And Eastern Bypass.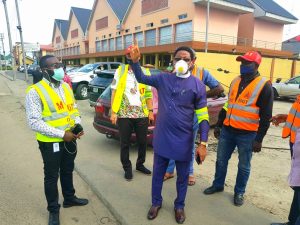 This proactive exercise embarked upon by the commissioner was timely and of great import, as it helped restored sanity on our ever busy roads, knowing fully well that the rush today would be tripled as a result of the lockdown relaxation by the Rivers State Government and the imminent panic buying by residents in their bid to restock their homes.
Sir Sam frowned at the unruly behaviour of some drivers and stated that impatience on the part of some drivers is the cause of most traffic situation on our roads, he however advised road users to obey traffic wardens as it is to their benefit that the Ministry's Traffic Marshals are placed at strategic Checkpoints(junctions) for purposes of ensuring orderliness and decongesting the roads in the interest of the public.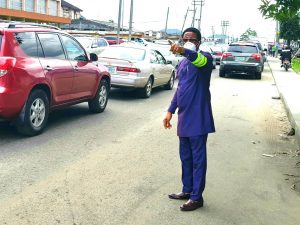 Sir Sam opined that "Today being the first of the two days of the relaxation order of the lockdown in Rivers State as issued by the governor witnessed an in flux of movement by commuters and motorists. It should be noted that the love shown by the Chief Executive to the people of the state shouldn't be used as a medium to diminish the directives for social distancing in the fight against covid-19 in our dear state"
Furthermore, the transport boss stated that the exercise continues tomorrow being the last day of the relaxing order and admonished drivers to be considerate to other road users as they go about their lawful businesses.