Igwe Ifitedunu Distributes Paliatives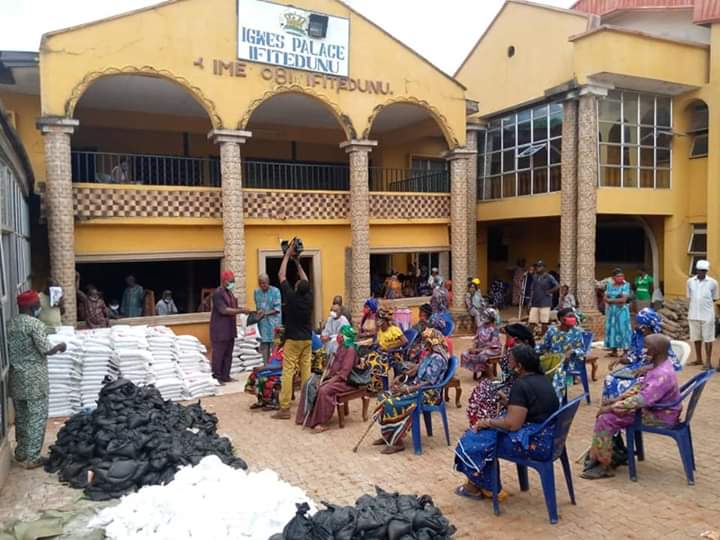 Igwe Ifitedunu
COVID -19: Igwe Ifitedunu Distributes Paliatives
Traditional Ruler Of Ifitedunu, Igwe Dr. Emeka Ilouno Distributes Food Items, Preventive Materials And Farm Input To Community Members
Dez Mayorz report.
By Joseph Egbeocha (ABS News)
Members of Ifitedunu community in Dunukofia Local Government Area of Anambra state have received food items, including bags of rice, tubers of yam and food items from the traditional ruler of the community, Igwe Dr. Emeka Ilouno, as he embarked on Covid-19 outreach programme in the community.
Other items distributed at the event, in strict observance of COVID-19 preventive measures are nose masks, farm input, including fertilizer, lime, maize, cucumba, water melon seed and bundles of cassava stems.
Distributing the items, Igwe Ilouno said the step was taken in response to the need to help members of the community and the State Government in cushioning the effects of measures being put in place to collectively and successfully fight the Coronavirus rearing it's head in the State.
Igwe Ilouno, while encouraging his subjects to continuously observe preventive measures against the virus, equally encouraged them to embark on "iko ugbo azu uno", as espoused by the Anambra State Government, to enable them equally cushion post-COVID-19 effects, expressing confidence that the State Government will successfully manage all COVID-19 cases in the State.
Some beneficiaries, including Mrs Josephine Malife, Stella Iloduba and Mr. Chukwuka Obidigbo, who explained that life has never been easy for them while observing preventive measures against the virus, thanked Igwe Ilouno for putting food on their tables.
President-General of Ifitedunu Town Union, Honourable Uchenna Nwoye, and some cabinet members were in attendance during the distribution exercise.