Eleme Community Commend Gov Wike For Demolishing Prudest Hotel.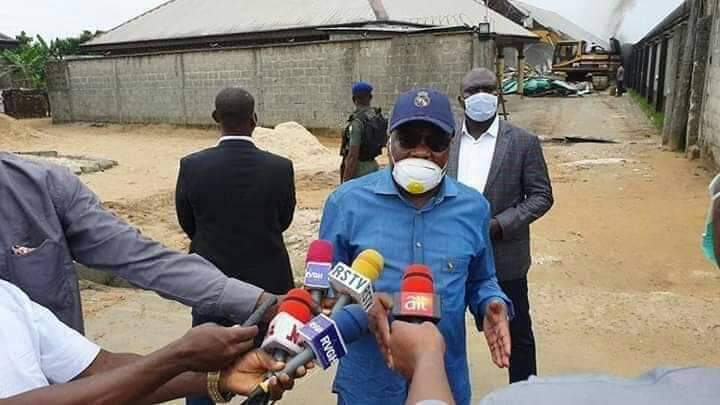 Eleme Community.
So many reports from Eleme community, thanking Gov Wike for demolishing the Hotel in their community. Dez Mayorz will focus on this report from opposition party member, where he calls his action "hands of God". Read below.
WIKE'S ACTION, HAND OF GOD.
I have read several articles and watched videos of people condemning the River State government demolition of property ( Hotel) of Princewill Osaronwa OSAROEJIJI. I appreciate their concerns and worries as Democrats and law abiding citizens cos, I would have screamed louder if I am not an Eleme son. However, knowing Governor Wike well, they ought to ask questions and make further investigations as to know what really happened.
1. Note that the said hotel belongs to Princewill Osaronwa OSAROEJIJI of Alode in Eleme LGA of Rivers State.
2. The demolished hotel has been a hideout for criminal gangs and venue of cult meetings from where they take off for operations.
3. The hotel houses prostitutes ( Asawo)
4. The hotel was operating with the prostitutes hosting customers even during the lockdown despite State orders.
5. The hotel was not only open to customers both full and short time but was hosting parties amidst this covid-19 pandemic, the owner feeling he is above the law and indeed the Youth Leader of PDP.
6. That words was sent across to the hotel owner to close down or face demolition and he sent words back that he dares the State to try it and see if he will not bring down the State.
7. That Members of covid-19 committee monitoring hotels went to enlighten the owner and his guest that what they were doing was against the executive order of the state government and acceptable practices.
8. That he and his boys not only assaulted the Committee Members but pointed guns at them and shot and injured one of the members of the team.
9. That Eleme people who are his people are weighing a little sigh of relief concerning the pulling down of the hotel.
10. That the hotel is not money made from genuine seat as alleged but crime and human blood.
9. Do u know how many lives the boy has wasted in that hotel?
10. That Princewill was the Cause of the crisis in his community Alode in 2017/2018 that led to over 10 deaths including that of Late Isaac obe (Former Eleme Youth President and APC Zonal youth leader) as well as his sister Barrister Mary Obe.
11. That the owner Princewwill is a suspected Gun runner as he has not been convicted.
12. That he was shot on the leg during one of his escapades in the community and thus limps.
13. That he is suspected to be the Blackaxe leader in Alode and that enboldens home to live above the law.
14. That he is an alleged oil thief.
15. God just used Wike to bring some respite to Eleme Community.
16. Ask Eleme people how they feel before you make further comments or condemn the ousting of a criminal.
17. How many hotels are in Rivers State. Several have been sealed and their management arrested and charged to Court for several violations, none was demolished.
18) That the State was not just dealing with a regular hotel but a criminal den. He cup was just full.
19). That Princewill should be arrested to face the music and let Eleme have some respite.
20). We thank God for this intervention through Rivers State cos nobody dare touch Princewill in Eleme.
21). Any doubt as to any issue raised here. Please cross check with the security agencies in Eleme who Princewill Osaronwa OSAROEJIJI is and what he stands for.
I AM FROM ELEME AND AN UNREPENTANT APC MEMBER BUT I THANK GOV. WIKE FOR THE FIRST TIME IN MY LIFE.
I WOULD LIVE TO ADD MY NAME FOR CONFIRMATILN BUT FOR SECURITY REASONS AS HIS BOYS ARE STILL THERE.