COVID 19 War: FG Throws Back Punch On Rivers State Gov Nyesom Wike, Redeployed Police CP Mustapha.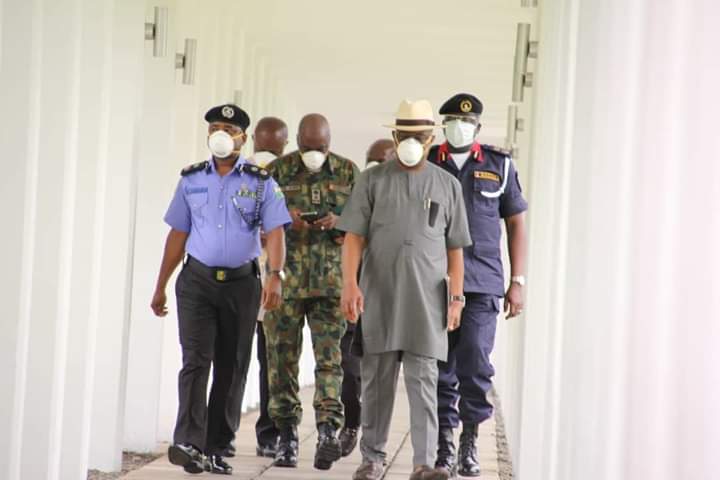 Gov Wike and Federal Government.
-COVID 19 War: FG Throws Back Punch On Rivers State Gov Nyesom Wike, Redeployed Police CP Mustapha.
– Rivers State gets new CP, four hours after Gov Nyesom Wike Friday broadcast.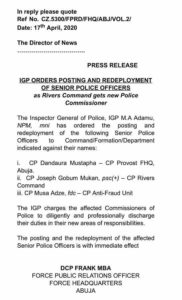 Rivers State Police Commissioner Mustapha Dandaura Redeployed.
To be replaced by Commissioner CP Joseph Gobum Mukan.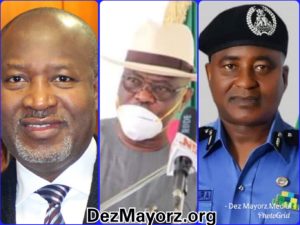 Recall Dez Mayorz reported that Gov Nyesom Wike is romancing with Rivers State CP and Rivers State Police, especially on the COVID 19 border enforcement and the approach when it comes to Mr Chima and Ikoku Four saga that is yet to be addressed.
Dez Mayorz earlier reported that the Rivers State Government arrested and jailed Caverton Pilots in Port Harcourt for violating the State Sit at Home, which led to the minister of aviation Hon Hadi Sirika to react angrily.
Gov Wike fearlessly followed up the development by shutting down the Carveton offices in Rivers State.
During his Friday broadcast, Gov Wike told Abuja politicians that he is not afraid of them, even if they want war, that he will continue to defend the lives and interest of the Rivers State people.
The Federal government replied Gov Wike with the immediate redeployment of the police CP Mustapha.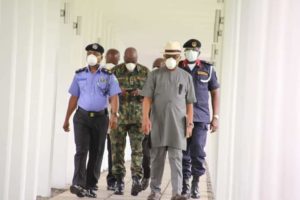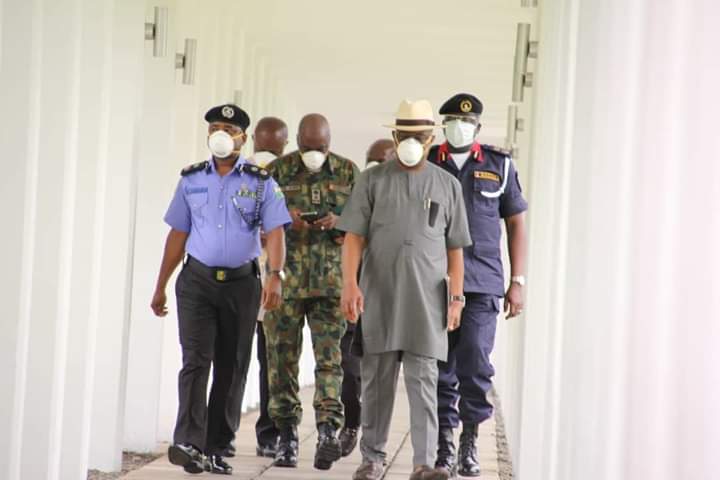 The truth is that the Federal Government can not win this war with Gov Nyesom Wike.
Gov Nyesom Wike is loved by 71% of the Rivers State People and they are ready to protect his interest even though they have internal differences in the state.
Moreso, Gov Nyesom Wike is apparently seen as the leader and spokesman for the people of the South East and South South, meaning they will rally behind him on the long run.
Not to mention IPOB, Niger Delta Avengers who are ready to fight for the Rivers State governor Nyesom Wike.
Legally, Gov Nyesom Wike will also come out victorious when the development (the issue in question) is analysed on legal views.
The federal government should think twice and end this unnecessary face off with the Rivers State governor who has done nothing except to proactively speak and defend his people from the northern cabals.
Gov Wike is not perfect, he has some internal political issues and differences with his people, but he is loved and appreciated when it comes to the national politics (Rivers state and the Aso Rock cabals).
Read more :
CP Joseph Gobum Mukari to resume duty as the 41th Commissioner of Police in Rivers State since its creation on the 27th of May 1967, and the 9th Police Commissioner to work with Governor Wike since he assumed office 4 years, 10 months, 2 weeks and 5 days ago; precisely on May 29, 2015.
It would interest you to note that Governor Wike's predecessor, Rt.Hon. Chibuike Rotimi Amaechi worked with 7 CP as Rivers State Governor for 8 years, they are as follows: Felix Ogbadu, Bala Hassan, Suleiman Abba, Mohammed Ndabawa, Joseph Mbu, Johnson Ogunsakin and Dan Bature.
Those who had worked with Governor Wike are as follows: Dan Bature, Chris Ezike, Hylesinda Musa Kimo, Folosho Adebanjo, Francis Odesanya,Zaki Ahmed, Usman Belel and Dandaura Mustapha. Now Joseph Gobum Mukari.
This incessant changing of CPs under this present administration is aimed at nothing but putting the lives and property of Rivers State people at harm's way, as every CP working hand-in-glove with the Governor of the State, discarding the script given to him must be shown the way out.
(ANUEBUNWA VICTOR CHIDOZIE.)
SOME OF THE GOVERNOR NYESOM WIKE'S " STATEMENTS (PUNCHES) DURING HIS COVID-19 PRESS BRIEFING ON FRIDAY.
INDEED, HE WAS RAW AND REAL……..
– I have come and will go one day but while I remain, I will ensure the lives of the People of Rivers State is Protected. I am a "Boy" to the people of Rivers State and not anyone outside the State.
– You can fly, I can not stop you from doing so but when you land, do not enter my territory. The roads were constructed by Rivers State Government.
– You don't talk law on Pages of Newspaper, you talk law in the Court and we're prepared. A Certain minister sat somewhere issuing order to me, let him come and release the people in our custody that violated the law.
– I am not one of those Governors who fly to Abuja every now and then to look for favours. COVID-19 has come, let everyone stay in his state and spend money.
– Any Company operating in Rivers State that does not assist the State in the fight against COVID-19 will hear from Rivers State. I don't go to them to beg for anything, I have not collected anything from them and so, I can stand firm and make a decision.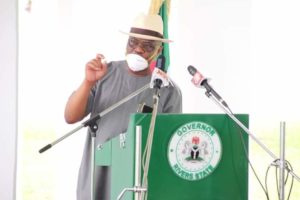 – We are not those State where a Governor receives 28million naira and snap pictures with it. In Rivers State, we don't collect Widow's Mite. You make money here, it is our entitlement. Look for the COVID-19 task force account and make your donations there. There are poor people who still have Pride and Integrity.
– I won you in 2015, I won in 2019, how many times do you want me to win you?
– The only opposition party in Rivers State is SDP who won a seat in the House of Assembly. How can someone from a party who cannot produce a single Candidate just within the party to stand for an election come out to talk about how to run a State? Go and put your house in order.
Gov. Nyesom Wike Blows Hot.
– All those politicians politicising Covid-19 saying that they were tested positive and now negative, they should also make public their HIV status
– Stalls have been converted to markets; we would go after them. For the markets defying us, we would close down the market forever
– If you don't like me, should I kill myself?
That will even make me to like myself the more
– (to press men) Most of you don't like us, you eat our food but we know the interest you represent. Write your reports well, if you don't write well, Corona Virus will catch you.