Attack on Pope Francis : Fr Ugwu schooled Apostle Suleman.
Fr Kelvin Ugwu
Attack on Pope Francis : Fr. Ugwu teached Apostle Suleman a lesson.
A Catholic priest who is on missionary journey in Malawi Rev Fr Kelvin Ugwu has screw Apostle Suleman for writing and attacking the Catholic pontiff wrongfully.
Apostle Suleman scored an own goal by ignorantly accusing Pope Francis of working against the will of God based on what he copied online.
Below is Fr Ugwu reply.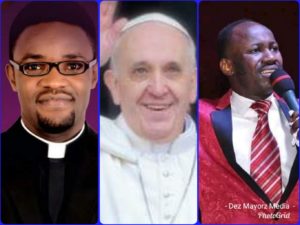 Apostle Suleman: God revealed to me that Pope Francis is Antichrist. He is among those that created COVID-19 to destroy the world. He sacrificed Italy and he is responsible for killing thousands of people that have died so far.
Fr Kelvin Ugwu: Apostle Suleman will always be a Suleman. Like the Suleman that he is, he had to go online, copy one of those conspiracy theories that jobless people cook up in order to keep themselves busy, he then paste them into the heads of his follow follow gullible followers as God's words since he knows his followers are foolish.
His followers online: Fr Kelvin, Apostle Suleman is an anointed man of God. You don't talk about him that way. His revelations are from God. You are not in the spirit, you can never understand the spirit. You think it is easy to prophecy, prophecy let us see.
Me: (looking at them with one eye.) What did I call his followers again? F.F.G.F (Follow Follow Gullible Followers).
What do you think?
Do you think a leader of light in the entire christiandom will swift to work against Christ.? Everything is possible, but from the facts on ground,Pope Francis and Catholic Church remains the light of the world.
Corona virus is from hell, and it comes also to attack the real men of God.
Below are some photos of Fr Kelvin Ugwu on serious missionary journey in Malawi, converting and bringing the poor to Christ.