Ello model
Ello Model Academy Recruitment.
Presents Master Class For the Academy.
Registration slashes to #10,000
Acount Number = Ello Worldwide Entertainment Ltd.
Gtbank : 0243709543
What You Will learn :
Communication model, karate, public speaking, ICT and blogging, catworking, and fitness.
How to Register :
Make payment to the Gtbank Account and whatsapp the Teller to this number – 08035586768 for confirmation.
Or make payment To the listed account number via the website.
www.ellomodel.com
For more information call:
08035586768, 08037918162,
08083755363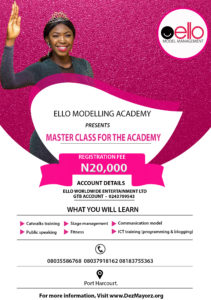 Ellomodel, in association with Dez Mayorz Nigeria