Nkwo Ifitedunu.
Jubilation in Ifitedunu as Anambra Chief whip Hon Lawrence Ezeudu sets to fix the Nkwo Ifitedunu road to standard.
Good news have hit the Ifitedunu people this December as the Anambra State House of Assembly Chief Whip, who is also a proud son of Ifitedunu, Hon Lawrence Ezeudu sets to construct and fix Nkwo Ifitedunu road that is in a state of anarchy.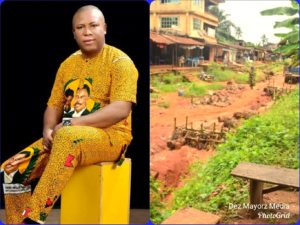 Reacting to the state of Nkwo Ifitedunu road, Hon Lawrence Ezeudu told DEZ MAYORZ NIGERIA media that he has taken it to himself to repair the road to standard and that he has paid road graders to go to work
"….I have instructed and paid road graders to kick off works on the road…
….Because of the delay in approving and signing the contract by Anambra State Government, I decided to fix the road by myself. I will not stand and watch my people (Ifitedunu old men and women, children and youth) struggle to pass or walk through this road anylonger.
I have paid the road graders to go to site,…." – Hon Lawrence Ezeudu.
The 2019 DMOMA Award winning lawmaker ( best State Lawmaker of the year in the whole Nigeria) who is excessively loved by his people have been very supportive to his people. He always fix and repairs damaged roads in his local government area especially the Ifitedunu roads.
Nkwo Ifitedunu Market Junction road is one of the most important place in the Ifitedunu. It's the road that leads to the compound of Veteran Nigeria musicians Paul and Peter Okoye (P Square).
It's the center of Ifitedunu economy where business and trading take place.
The Nkwo Ifitedunu Market road is in a state of anarchy as a result of unfinishing shallow work done by Cosco Construction that channels drainage system from Abba town to Nkwo Ifitedunu junction without proper construction directives.
Thank God for the Anambra State Chief Whip Hon Lawrence Chukwunwike Ezeudu (Chief Whip) for taking the bold step to fix the road as the state government continue to delay the contract.
The capacity lawmaker has used his office and influence to attract many projects and benefits to the Dunukofia people.
He also attracted the Gov of Anambra State to award a mega contract to COSCO CONTRACTORS to do the road without relenting, which is yet to be signed by the state government.
Previously on the said road, Hon Lawrence Ezeudu successfully did a palliative on that Nkwo Market road. He has been continuously moving motions concerning the road in the state assembly.
Ifitedunu and the entire Dunukofia people are happy and glad of the development.
Dez Mayorz report.