Goddy Ok.
Godwin Moses O.
Popularly known as Goddy Ok.. is a Port Harcourt based composer of Church Choir music, Gospel Reggae music and Gospel Recording and performing artiste….
He's a Gospel artiste with difference, who grows in Grace and sings gracefully.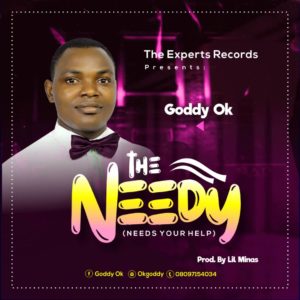 He is touched by the situation of the Needy and the orphans thus was inspired to do this special song titled "The Needy" which calls on all of us to show love and support to all the needy and orphans so as to make this world a better place….. The song was Produced at The Experts Records by Lil Minas.
Download the audio below
     You can connect with him on Facebook at GODDY OK.