Emma Okah and Tam-Goerge.
The immediate commissioner of Information and Communication in Rivers State Hon Emma Okah has cautioned his friend, predecessor and successor, Hon Tam – Goerge to stop demarketing Rivers State. Below is his statements.:
RIVERS: The Burden of A Former Spokesman (Part 1)
Is a former spokesman for a government the proper and fit person to turn 'prosecutor-in-chief' or 'public opinion antagonist' of same administration he spoke for?
By Emma Okah
Every day in the media, my friend and former cabinet colleague Dr Austin Tam-George who was the first image-maker of the Nyesom Ezenwo Wike administration in Rivers State as the then commissioner of Information and Communications, paints his immediate past principal and by extension, his State in undeserving bad light.
As colleagues then, we shared a common principal and a NEW Rivers vision aimed at lifting our State from the ugly scenario we inherited to a better one. There were challenges but the will and capacity of the government to create a new order of service delivery and hope for the people was not in doubt.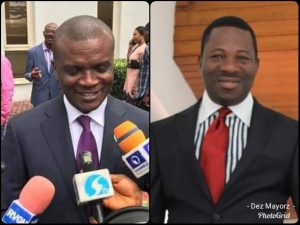 Wike proved equal to the task. Despite the lack of co-operation from the centre, he turned the distractions into a tonic for project delivery and posted a positive impact. That is why the government, in concrete terms, after four years, dwarfed most of the states of the federation in leadership, development and infrastructure. No right thinking person, even those in the opposing political parties, can deny the superior place of Governor Wike among his contemporaries. I am therefore saddened by the ignoble role of Tam-George in pointing one finger at others when four are pointing at him.
Admitted that the moment he left (whether he resigned or was sacked is not the point here), he was seen on video footage climbing and being pushed from the buttocks into a train wagon leaving Port Harcourt to Aba with the Minister of Transportation, RT. Hon Chibuike Rotimi Amaechi. That image has remained distasteful to this day; because, of all aides to a governor or president, the spokesman or information manager is the most visible. He or she represents the voice of the administration and conscience of the government. What Okoko Ndem said on radio during the Nigerian Civil war for the Odumegwu Ojukwu Biafra is still held for or against him to this day. Not many can easily remember any other Biafrian government official now. This is the same judgment that confronts Tam-George as he attacks the same house he helped in building.
I am both his predecessor and successor and I understand the magnitude of this responsibility. It therefore means that a burden is levied on whoever is the image maker or voice of any administration even after office. Defecting to the direct opposition is a fundamental right but it is one that has a cost. It is usually not the best thing for the image maker. Even when such a personality does, he often takes a back seat or occupies positions that would not pitch him right opposite the same people he just defended. This is the burden of a former spokesman which many information experts expect an information manager like Tam-George to be aware of, no matter how pained he may be.
His decision to become the voice of the opposition in the same Rivers State information environment can only be tragic. He has rather chosen to attack on many fronts and his recent careless remarks on education and state of roads in Rivers State is at best a whitewash and an unsuccessful struggle to tarnish the achievements of the Rivers State Government since 2015. As the information commissioner for two years, he published periodic magazines, granted robust interviews, wrote articles, featured in several radio and television programmes and vehemently showed how well the Wike administration was changing the landscape and solving problems of the people of the State. Even as he sings a new song today, does he not know that objective-minded people will confront him with this double speak?
His recent love for demarketing Rivers State is in the DNA of his new friends whenever they fail to strike electoral victory. For me, governance is work in progress and peoples and countries all over the world are striving to make their abodes better. If Tam-George and his group cannot join other patriots to build a better state, he should fear God enough and keep quite or criticize constructively. If he fails to do so, the works of Wike will floor him in any debate as there is no single state or country where all problems are solved at the same time and by only one administration. If it were possible, Wike would be a gold medalist.
Ironically, even as bad as they paint Rivers State, their family members and relatives reside and do businesses here. They are regularly sneaking into Port Harcourt, hosting social events and enjoying the night life and other attractions that the Wike administration has provided for all of us. Therefore, Simeon Nwakaudu and many commentators who quickly pointed out to him that double speaking is akin to a media suicide cannot be faulted. They have guided Tam-George to follow a path of honour and save his image otherwise, no political group will take him serious and even his new masters will privately prefer not to trust him although he may not get to hear it on time.
Recently, he was on the sticky OML 25 to dance naked and to turn this concept upside down. It is perceived that most actors outside Kula who take front seat on this matter act as mercenaries. Even if Tam-George is not one, it would be difficult to see him otherwise in such a bloodied information space.
His most unfortunate outburst is his assertion that "Governor Nyesom Wike's so-called mediation effort on behalf of Shell was dubious and politically tainted from the start, and the Kula community is right to reject it." When does an action qualify to be dubbed 'so-called'? This phrase is deliberately used to belittle an effort and to present it as not sincere. Nothing can be further than the truth in the well-meaning efforts of the Wike administration to resolve the deteriorating situation. Or, how else does a government mediate? Or does he expect a governor to simply sit down and await disaster to erupt before Tam-George will see him as a good man. . . . To be continued