DMOMA Award nomination list (The 2019 nominees list).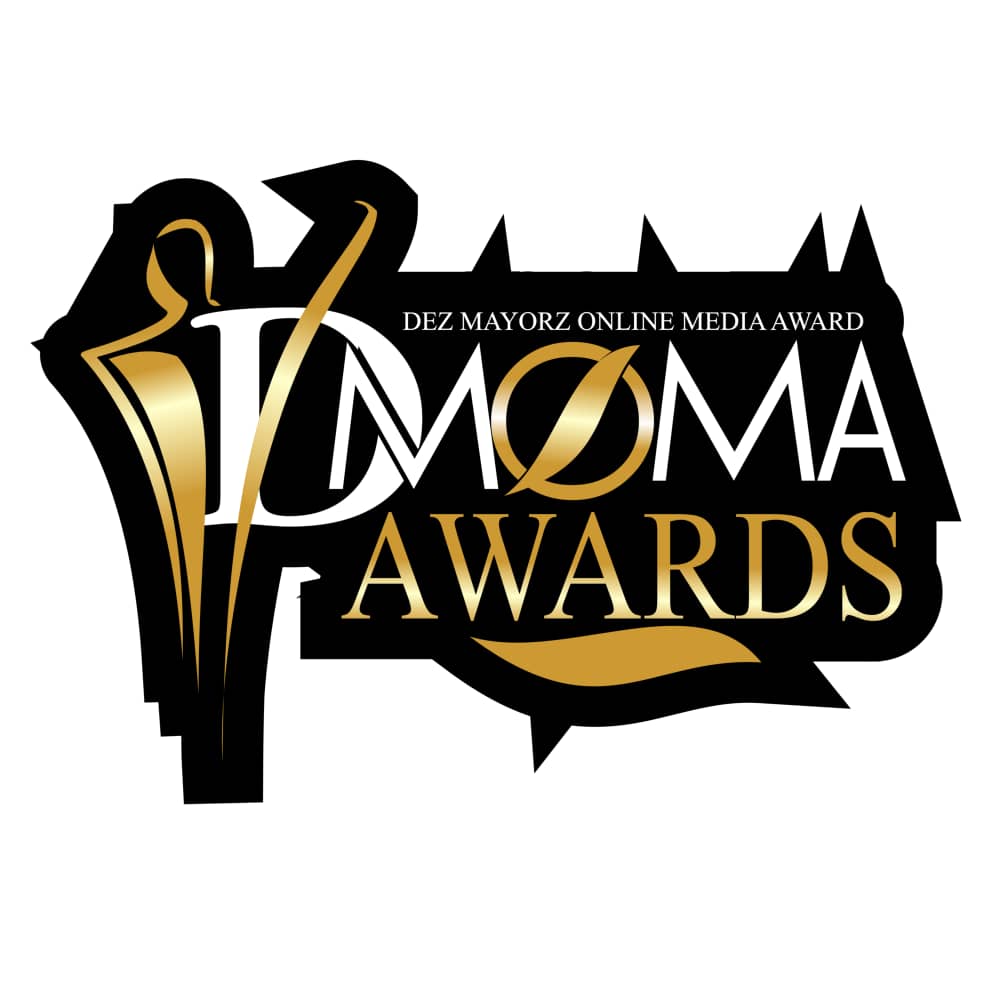 DMOMA Award nomination list
ONLINE MEDIA AWARD (DMOMA AWARD).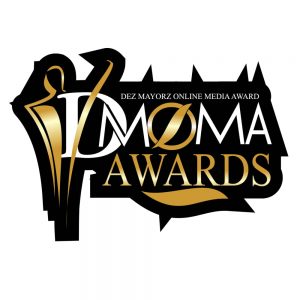 – Powered by Hon Azeru Opara (RSHA, lawmaker, Port Harcourt constituency 3).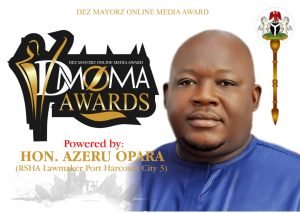 -Hon Victor Ihunwo Nyeche, Mayor of Port Harcourt, Chief Executive Host.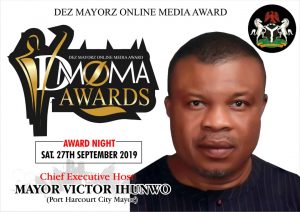 The organizers of Dez Mayorz ONLINE MEDIA AWARD release the list of the nominees for 2019 DMOMA AWARD after being nominated by aleast two different persons.
Below is the full list of the nominees in their various categories:
1. Commissioner of the year.
– Emma Okah (Information and Communication – Rivers State).
-Silvanus Nwankwo (Commissioner Chieftaincy title – Rivers State).
– Mark Okoye – Commissioner of Economic, planning and budget, Anambra state).
– Tamuno Sisigogo (commissioner of Education – Rivers State).
– Hon Chinedu Tasie.(Land and housing).
2. Politician of the Year.
– Gov Nyesom Wike (Rivers State governor).
– Mr Peter Obi.
– Bola Tinubu.
– Mohammadu Buhari
– Uche Secondus.
– Rotimi Amaechi.
3. Company of the year.
– Rivers State Transport Company.
– BelemaOil Producing ltd.
– Seafloat Marine Services limited.
4. Medical Personnel of the year.
– Joseph Polycarp. (Effective Medicals).
– Dr Bassey Enya. Bassey. (Medlab National President).
– Dr Ikechukwu Odo (Meridian Hospital director /Doctors president).
– Dr. Ujile Erone (UPTH former medical director).
5. Legal Practitioner of the year.
– Chief OCJ Okocha.
– Prof OVC Okene
6. Most Accessible LG chairman of the year.
– Hon Victor Ihunwo Nyeche (Port Harcourt City Mayor).
– Hon Rowland Sekibo (Akulga, Akuku Toru).
– Hon Samuel Nwanosike aka Ishi (Ikwerre).
– Hon Tom Aliezi (Emohua).
– Hon Solomon Eke (Obiakpor).
7. Most Proactive Lawmaker of the year (States – Rivers /Anambra / others).
– Hon Martin Emeghule.
– Hon Major M. Jack (One million Youth movement).
– Rt Hon Eddison Ehi. (Deputy Speaker).
– Hon Alabo George Enemi. (RIVPROW convener).
-Hon Lawrence Ezeudu (Dunukofia in Anambra State.).
8. Most proactive Lawmaker (Federal).
– Ken Chinda.
– Blessing Nsiegbe.
– Magnus Abe
– Osinakachukwu Udeozu.
9. Media Personality of the year.
– Marshal Obuzor
– Emma Okah.
– Segun Owolabi
– Bob Abayomi.
– Nkiru Homann
– Sixtus Gerald(Enugu).
– Marvin Chinda.
– Bright Jossy.
– Legendary Slam (Kapa).
10. Media Icon of the Year.
– Simeon Nwakwudo. (Scan News).
– Segun Owolabi (Silver bird).
– Kenneth Ogbunehu (Revken) OAP/General Editor Wish 99.5FM & president phc OAP forum.
– Nkiru Homann.
– Emma Okah.
– Cyril Onyekwere (Catholic link).
– Ani Abdusalam.
11. Best Blog of the Year.
– Scannews.
– Dez Mayorz
– IgbereTvNews
– Phcitypromo
– YoungEndy's blog.
– Better Rivers.
– BelieveAll.
– PUO Report.
– AbiafactNews
– MymusicNigeria
– Sahara Reporters
– Selflesstvnews.
12. Sports Personality of the Year.
– Hon Felix Obuah Football club. (Go-Round Football club).
– Ifesinachi Friday (Mr Universe).
– Ernest Owoh.
– China Acheru (sports chief wish FM)
– Honour Sirawo (SWAN president -National).
13. Engineer of the year.
– Engr Buchi Ugwu.
– Engr Akuvue Innocent (Chairman of Nigeria society of Chemical Engineers, Rivers and Bayelsa).
-Engr Prof Josiah Ayotamuno (Agricultural and environmental Engineers chairman).
– Prof Engr. A. A. Ujile (Chemical Engineering professor, Otuoke.).
14. Entrepreneur of the year.
-Coteck Furniture Ltd
-Perez Peremelade Araka (PrimeWash Ltd).
– Arcania
– Daniel Okwarra (Decent Digital ).
15. Best secondary school of the year.
-Alpha Academy (Eagle Island).
16. Proactive Lecturer of the year (academics).
-Prof Jones Jaja
– Prof Isaac Zeb Obipi [chief ] (RSU DSA)
– Dr Anaemia Wordu.
17. Best Bank of the Year.(Rivers State branch).
– Access Bank.
18. Social Media Influencer of The Year.
-Nkiru Homann.
-Marshal Obuzor.
-Bright Jossy.
– Worgu Eric
– Ojims Michael.
-Margaret Ayara.
-Bright Nnokam.
-Comr Jeffery Wobodo.
– Mbanugo Onyeka Nelson (Anambra).
– Jeffery Sidney Wehere (Birthday Korner).
– Ichenwo Goodluck.
– Chidozie Anuegbunam
– Henry Hart.
19. On Air Personality of the year.
-Agnes Asigo.
-Tasie Nwenedah Tombo Belle.
-Akas Baba.
– Joy Ossai(lady J,  wish FM))
– Kofi Batez
-Eyi Diana.
-Naija Mumu
– mc Toku Toku.
20. Gospel Music art of the year.
-Fr Chimaobi Ohaji.
-Mercy Chinwo.
-Cynthia Yakie
– C. C. Johnson.
– Dsmart
-Sensational Bamidele.
– Stella Iwala.
21. Youth Impact Award.
-Mayor Victor Ihunwo.
– Hon Charles Anyanwu (NDDC SA on youth).
-Divine Icon Nigeria (Crown Prince Kio).
-Hon Eddison Ehie et al -1Million Youth convener.
– Chukwudi Dimkpa
22. Best Modelling Agency/model/ presenter of the year.
-Misofene Bernard (Sweetest Didi).
-Flaunters model Agency.(Ojims Michael).
– Angel Triumph
23. Creative Art (Entertainment and brands).
– KO Baba.
– Jikume
– Mc Senator
– Dandizzy
– Dbee
– Idahams
– Hon Nwobodo (Deejay)
– Francis Art Africa.
– Ben6
– Adviser
-Danny Spry.
– Exbrown E
– Csplendor.
24. Community Development Organization of The Year Award.
-NGO, SELFLESS SERVICE INTERNATIONAL
– CDC Rumuekini
-CDC Rumukpoku
25. Humanitarian Service of the Year Award fighter.
-Divine Icon Nigeria.(Music Talent empowerment).
-Brown Orphanage (Susan Brown).
-Home For Streets children (Diobu).
-Agbalanze Ebube (Ubuntu foundation).
– FIDDA
26. Freedom Fighter
– Ankio Briggs.
-Nnamdi Kanu.
27. Prolific Writer of The year.
-Bright Jossy.
-Anuegbunam Chidozie.
-Odey Morgan.
28. Philanthropist of the year.
– Prince Arthur Eze (Eze ego).
– Bro Felix Obuah.
-Hon Victoria Nyeche.
– Flag Amachree Ojukaye.
– High Chief Sam Ezejiofor Wokolo.
– Chukwudi Dimkpa
29. Proactive Educational organisation.
– Smart Mind Africa, Education House (Ghana /Nigeria).
– Magdalene Institute of Foreign language Ltd.
30. Councillor of the year.
-Hon Collins Omunakwe (PHALGA leader).
– Hon Endurance Elenwo (PHALGA Chief Whip).
– Hon Hebah Larry Godwin (Emohua LGA)
– Hon Henry Ichemati (PHALGA ward 18).
– Hon Chijoke Odum JP – PHALGA Ward 2.
– Hon Chidiebere Ibechenjo – Ward 14.
31. Unique Group.
– New Rivers Youth (Who You Help Ministry. )
-Talkaholic Unlimited Group.
-I see Group.
32. Traditional Ruler of the year.
– King Anderson Douglas Jaja, Amanayabo of Opobo.
-King Morgan Amadi.
-King Ateke Tom.
– Arthur Eze n'Ukpo
-HRM Chief Dr Appolus Chu.
-HRM King GNK Gininwa (Gbenemene Tai Kingdom./Chairman Supreme Council of Ogoni Traditional Rulers )
– HRM Samuel Nne.
(Gbene Mene Tua Tua Tai).
– Alhaji Mohammed Etsu Nope.
33. Pastor/Priest of the year 
-David Ibiyeomie.
-Bishop Patrick Eluke.
-Fr Chimaobi Ohaji
-Apostle Chibuzor Gift.
34. Arm Force Personality of the year.
– DSP Nnamdi Omoni(police PRO).
35. ICT Personality of the year.
– Asawo Ibifuro (Cinforex).
– Victor Tin (NaijaDomain).
– Code Camp
– CODE Ambassadors
36. Woman of excellence Personality of the year.
-Wikematic Ogestar Obiwali.
-Mrs Ipalibo Banigo (Deputy Governor).
– Mrs Marian Fiberesima.(PHALGA Deputy Mayor).
– Hon Soibo Ibibo Jack .
– Hon Victoria Nyeche.
-Senator Mpiafi.
– Ibifuro Fiberesima.
37. Magazine Publisher of the year.
-Skynews and Event Magazine.
– Supreme Magazines.
– Orange Magazine.
-Flaunters Magazine.
-African Monarchs Magazine.
Honorary Award.
– New Generation Rivers Youths. a. k. a RiversFirst Proponents.
-Kato Dienye.
-SDA Port Harcourt conference, (Hands of Hope Project )
-Mkaze
-Amb. Desmond Akawor, DG Greater Port Harcourt Development Authority.
– Mr Isaac Utere (Media Works)
-Prof M. F. N. Abowie. (First chemical engineer in Nigeria).
-Maazi Nnamdi Kanu (IPOB supreme leader)
– Ankio Briggs. (Activist and Freedom fighter).
– Dr Uriah Stephen Etawo. (Former  Medical Director UPTH).
– Hon Gift Oduah.
List ends.
---
---
---
Letters of nomination will be sent to the nominees by the organizers/DHL/Email depending on the location of the nominee.
DMOMA Award Online Voting will start on Monday 26th August 2019 on our official website (DezMayorz.org), and voting ends on Monday 23rd September 2019. (Note that the online voting will be charged at #50 per vote and you can vote as much as you desire).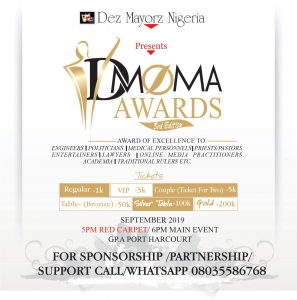 The Award Night is scheduled to hold on Friday 27th September, 2019. @Cubana Event centre, GRA, Port Harcourt, Nigeria.
For more info/sponsorship/support/ partnership – Call : 08035586768, 0812 0975109, 08035097957, 08094208259
Or email us. – dezmayorz@gmail.com.
Visit : DezMayorz.org
Congratulations to all the DMOMA AWARD nominees!.