Event : Catholic students (NFCS) alumni set for a mega get together in Port Harcourt.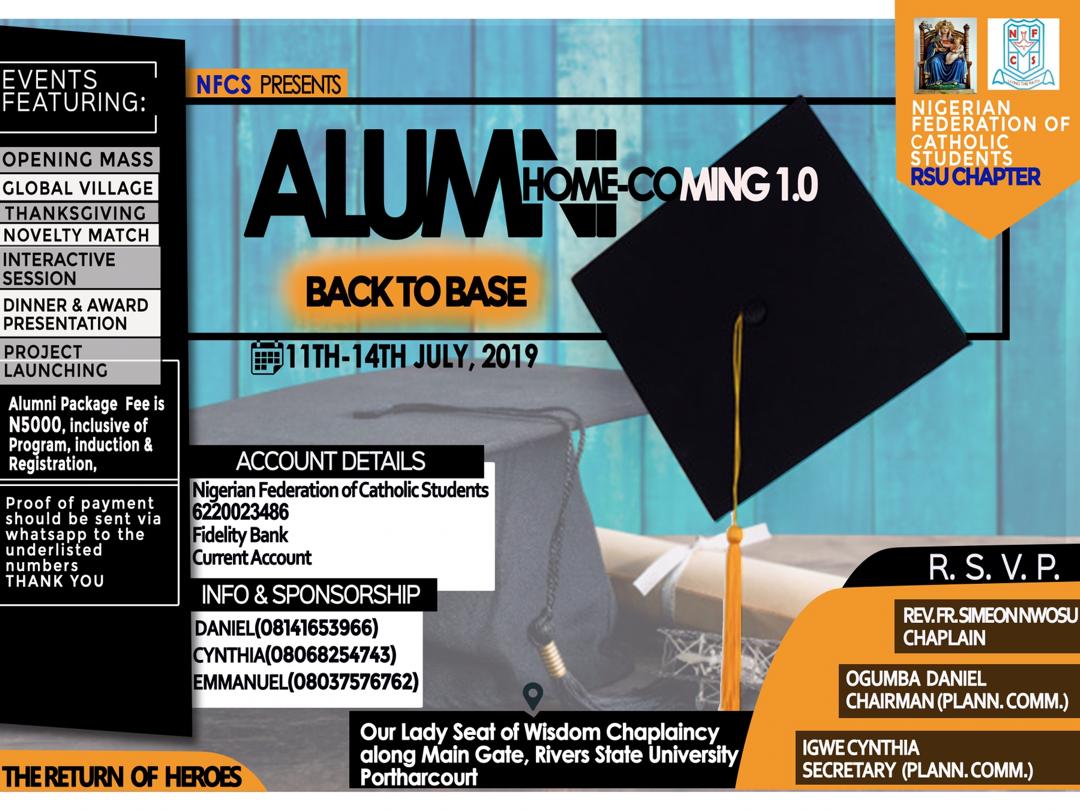 Catholic students NFCS.

NFCS ALUMNI HOMECOMING 2019
Thursday July 11th to Sunday July 14th.

About the Homecoming
(Back to Base)
The homecoming is a strategic event for
establishing a strong bond among all Alumni of
NFCS RSU from its inception till date
and a means for reuniting and reliving old times.
Goals/Objectives.
Without underestimating the influence of
Alumni communities to organizations and
institutions, this community with a general goal
of building a sustainable community, network
and a platform of support to the community
members, organization, and the church in its
immediate environment. The objectives of this
reunion are under listed thus:
1. To building links and networks among alumni
and the Central Body.
2. To establish an official Alumni Body for the
greater good of members.
NFCS RSU and chart a way forward for the greater good of members.
Mission Statement
The Homecoming is a threshold event to
promote bond and love among the NFCS as well
as serve as an avenue for mutual benefit for members and the association.
This historic event is one that demands vigor and fervour in order to see it come to fruition.
We rely on everybody's undying support to
deliver.
How can you support?
Firstly, Advice, guide and encourage the working
committee on this task. Help us find more
reasons to get the job done.
Secondly, contribute by
(a) paying for the Homecoming support fee
( ₦5,000 per individual). This covers for the
Alumni Pack you will receive and a means to
help plan and finance the event.
(b) Influencing the process. Events of this
nature leverages on everybody's network to be a
success. You can reach out to your pals and old
time school mate and tell them why we need to
relive the old times. We can strengthen our
bonds with this course.
(c) Promote the event. We have to reach a lot of
audience, owing to the fact that, as record has it.
the NFCS RSU has existed for more than
25years with more than 7thousand Catholics
directly or indirectly graduating as members Of NFCS RSU or while being members of Our Lady Seat of Wisdom Chaplaincy, Rivers State University. To reach these population we need a network of people who constantly share
and talk about information about the event
across media and platforms of engagement.
(d) Donate. Yes. We need much funds to make
the gathering remarkable and we are open to
and soliciting for more funding to finance the
event owing to the capital intensive nature of
the event.
(e) Help us with support links or network. We
believe financing does not necessarily have to
be money, but we can have people who may
directly contribute with what we need to make
the event a success. So we pray for these kind
of links and networks to help us deliver,
therefore, do not hesitate to share us viable
contacts who can be of help.
What if I can't make it to come?
We regret that we won't have you come and
enjoy the times. But, we understand your
situation and we really wish you can come.
However, your support is still needed in all the means available especially paying for the
homecoming fee which comes with a pack and
an induction letter. All these can be forwarded to you afterwards as a way of showing our
gratitude for making the event a reality.
So what can you do from here?
Fill this Google form to enable us keep records
and track the number of our participants. This
will also help us prepare event materials with
correct information especially in our brochures
and induction documents.
Secondly, to appear in the brochure, it is your
right. Send an email with your basic information
and a picture attachment (an ID size photo) to
Nfcsrsu@gmail.com
Third, make a payment of your delegate fee (a
contribution to the event planning and financing
and for your alumni Pack + induction letter)
Account Details
Nigeria Federation of Catholic Students
-Fidelity
Number: 6220023486
Current account
Fourth, spread the word about this event (tell
your friends, colleagues and relations) it will go
long way.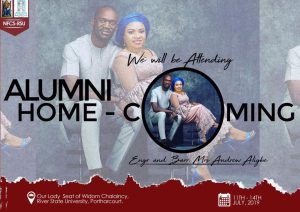 Reach out to the Chairman Central Planning Committee for more details here
0814-165-3966 (Ogumba, Daniel)