Rivers State IGR revenue.
Rivers State Governor, His excellency Gov Nyesom Wike and the Mayor of Port Harcourt city local government, Hon Victor Ihunwo Nyeche, among others, are the major catalysts behind the Rivers State Internal Generated Revenue exponential increase.
In spite of political turmoil that saw the exodus of companies from the oil city of Port Harcourt with attendant loss of jobs, Rivers State has recorded the fastest growth in Internally Generated Revenue (IGR), according to figures released late last year by the National Bureau of Statistics (NBS). Rivers State IGR grew by 36.13 percent.
It's now crystal clear that Rivers is now the fastest growing state IGR despite political instability, exodus of companies.
It moves from below N6bn in 2017 to N10bn in 2018.
RIRS boss says it is down to reforms, tax education, ICT.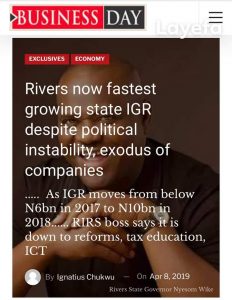 Thanks to Gov Nyesom Wike who has reformed the Rivers State Internal Generated Revenue structure, increase the tax payer education and investing in integrated ICT.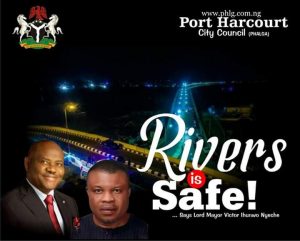 Gov Nyesom Wike has achieved this and will continue to achieve more together with his team, commissioners and Local government chairmen especially the Port Harcourt Mayor Hon Victor Ihunwo Nyeche.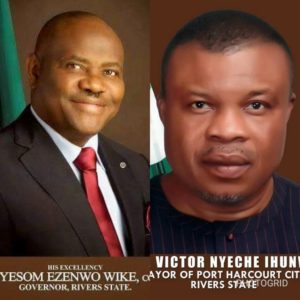 Port Harcourt Mayor Victor Ihunwo has been smartly stabilizing the internal generated revenue of Port Harcourt local government, starting from when he was a lawmaker to his emergence as Port Harcourt City local government chairman. He always ensure that Gov Nyesom Wike vision is actualized. He constituted a 16 man Revenue Verification Committee with a charge to verify payment of Tenement Rate to the Port Harcourt City Council.
Also, Obiakpor and other local government area chairman has been doing great to maximise Rivers State internal revenue without over stressing tax payers.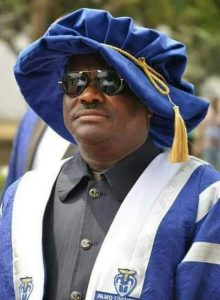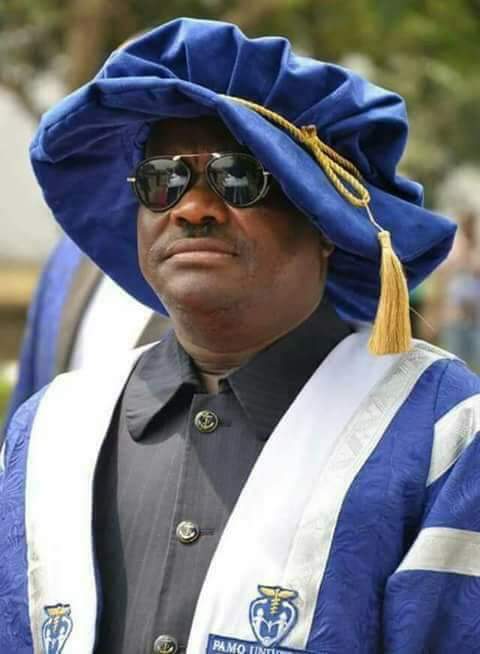 Gov Nyesom Wike has been embarking on so many reforms including the launching of Rivers State Tax Management [ RIVTAMIS] and issuance of Rivers State Tax Identification Number [ RIVTIN] to eradicate difficulty in doing business. Ever since, Rivers State have been recording a tremendous success.
Lagos is now in jeopardy, with the economy reforms on-going in the olden Eastern part of Nigeria (south East and south south).
By the year 2026, Rivers State and other states like Enugu, Akwa Ibom and Anambra state will be ahead of Lagos State in terms of development, political stability, investors settlement, education and infrastructural development.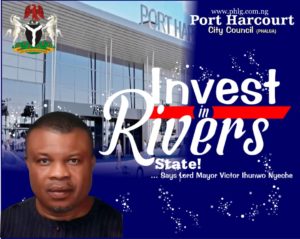 Congratulations to Rivers State, congratulations to Gov Nyesom Wike and his team. More works should be done on ICT, youth and women empowerment, media standardization and infrastructural development.
Written by:
Okoye Chidiebele Stephens
Dez Mayorz (ICT) director.
09/04/2019.