Smart Minds Audition contest.
$90,000 Scholarship for Grabs (Audition to be part of Smart minds contest).
Smart minds Audition.
$90,000 Scholarships Grabs.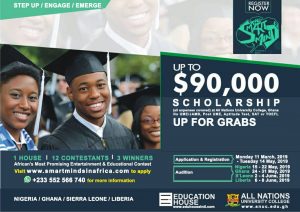 African most promising educational contest.
Step up, engage, emerge.
1 House, 12 contestants, 3 winners.
For young school leavers, 16 years and above.
Apply via www.eduhouseintl.com/smartminds
It covers $90,000 tuition free scholarships for grab (All expenses covered) at All Nations University College, Ghana.
No JAMB/UME , no post UME, no aptitude test, SAT, TOEFL.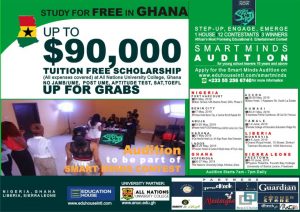 Application and registration starts on March – 14th May (Tuesday) 2019.
Audition =
15th – 22nd May 2019(Nigeria).
24th – 31st May 2019(Ghana).
2nd – 4th June 2019(Seira Leone),
6th – 8th June 2019(Liberia).
Apply now! click to apply.