Magnus Abe rejects AAC.
The Minister of Transportation, Chibuike Amaechi-led All Progressives Congress (APC) faction in Rivers, has adopted the African Action Congress (AAC) as the party to vote for in the Saturday, March 9 governorship election in the state.
The decision to vote for the AAC governorship candidate, Biokpomabo Awara, and the party, came barely 72 hours to the governorship and House of Assembly elections.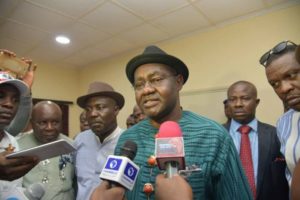 State factional Publicity Secretary of the APC, Chris Finebone, in a statement he made yesterday, disclosed that they decided to merge with AAC for the elections because both political parties share same ideology for Rivers people.
Finebone said: "Well, the news I have for you is that members of APC in Rivers state will vote for the governorship candidate of African Action Congress, AAC, Biokpomabo Awara.
"His candidacy fits into the strategic quest of APC to give Rivers people equity, justice and fair play."
The factional spokesman dismissed any insinuation of anti-party activities following the APC's adoption of AAC
He said: "It cannot because APC does not have a candidate in Rivers state vide the court. It is different from Imo and Ogun states where the APC has candidates. That's the difference."
Meanwhile, the Senator Magnus Abe-led APC faction in the state has condemned the decision of its opponent and urged Rivers people to discountenance the announcement.
Abe's factional chairman, Peter Odike, told their members and supporters that there was no meeting where such a decision was taken, adding that there is a pending matter at the Supreme Court, which has not been dispensed.
"I, Prince Peter Odike, JP, the State Chairman of the All Progressives Congress, APC, Rivers State Chapter, on behalf of the State Working Committee of the party, hereby calls on all members and supporters of the party in Rivers State to discountenance the said directive.
"Let me inform our members and supporters that the matter of the APC, in Rivers state, is presently pending before the Supreme Court and that the party never held any meeting in which the decision to enter into any alliance with any other party was reached.
"I am, therefore, calling on all faithful members and supporters of the APC in Rivers state, to continue to remain steadfast and to maintain their faith in the Supreme Court of Nigeria to restore our candidates on the ballot for the governorship and House of Assembly elections in Rivers State", Odike said.