PHALGA PDP Champaign Port Harcourt.
Port Harcourt Mayor, the prime mover that led to the mammoth crowd that welcome Gov Wike in PHALGA PDP rally.
It's crystal clear that the Port Harcourt Mayor, Lord Victor Ihunwo Nyeche was the reason why Port Harcourt people left their homes and businesses to turn up in mass to welcome Gov Nyesom Wike in PHALGA PDP campaign rally.
The rally was the best ever experienced in the history of Rivers State Local government campaign rally.
Even Gov Nyesom Ezebunwo Wike himself said it that PHALGA is the best ever.
It shows that Port Harcourt Mayor is working. There was effective awareness and publicity to it, kudos to the Mayor's press secretary Bob Abayomi, PDP campaign train, publicity media and personels and other professionals involved for the work well done.
Port Harcourt Mayor Victor Ihunwo was judicious in his opening speech that got people talking. Below is his powerful welcome speech:
*Gov Wike has a covenant with God to rule Rivers-Mayor Victor Ihunwo*
"Port Harcourt is a home for Gov Wike. Port Harcourt is PDP, and everyone here loves Gov Wike" – Mayor Victor Ihunwo.
"Since Gov Wike assumed office, It is on record that you have done great projects in Port Harcourt more than any other LG."
"Quality projects including Diobu internal roads, Eagle Island, Ogbunabali, Rumuwoji , Abuloma roads. Equipped and constructed Medicals Science complex in RSU University, built hospitals, construction of Doctors quarters, national industrial court, and many others"
"I want to assure you that we will deliver all the units and candidates in Port Harcourt Local Government come on 16th Febuary and 2nd March.
We will deliver Atiku and all the PDP candidates."
"As for you Gov Wike, you have a covenant with God to rule Rivers State, you are victorious already."
"Your excellency, I want to inform you, that as of last year, about 65,000 PVC were uncollected, but now, only about 15,000 remained. Which will all be collected before election and we will use it to vote Buhari out of office by special grace of God."
"I thank and welcome all of you , may God bless all of us."
– Lord Mayor Victor Ihunwo.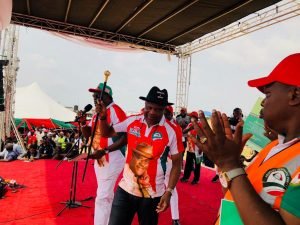 ASIDE PLOT TO USE STATE VIOLENCE , APC HAS NO REASON TO CAMPAIGN IN RIVERS STATE –GOVERNOR WIKE
Rivers State Governor, Nyesom Ezenwo Wike has stated that the All Progressives Congress (APC) has no reason campaigning in the state if not for their planned reliance on state violence to manipulate the polls.
He said the evil machinations of the APC to waste lives of innocent Rivers people, emboldened the APC to think they can invade Rivers State.
He spoke in Port Harcourt during the PDP Campaign Rally at Community Secondary School, Nkpolu Oroworukwo on Saturday.
He said: "If I was in APC, there are some states that I dare not campaign. One of such states is Rivers State.
"If APC is not a blood sucking political party, they won't be coming to Rivers State to attempt campaigning. In this state, they have nothing on ground to promote themselves. They think they will rely on state violence, but that will fail them".
He said since 2015, he has rejuvenated Port Harcourt, planting key projects to restore the beauty of the Rivers State Capital.
"There was a government here for eight years and it allowed Port Harcourt to decay. Amaechi lived in Borokiri, but did nothing to improve the roads in that area. But I have transformed roads in Borokiri, Township, Abuluoma, GRA, Diobu and other parts of the city", he said.
He said rather than develop Port Harcourt City, Former Rivers State Governor , Chibuike Rotimi Amaechi wanted to re-locate Rivers State University away from the town. He said that the people of Port Harcourt have no reason to consider the APC.
The governor charged Port Harcourt residents to vote for Atiku Abubakar and other PDP candidates for the country to be returned to the path of growth.
He reiterated his declaration that the National Security Adviser has directed INEC to work with internet service providers to shutdown the cyberspace for the rigging of polls . He said all plots to rig will be resisted.
The governor noted that moving forward his administration will create more urban centres in the state.
Former Deputy Speaker of the House of Representatives, Rt Hon Austin Opara said the people of Port Harcourt are happy with Governor Wike for his outstanding projects delivery.
He said that all across Port Harcourt City Local Government Area roads in Borokiri, Town, Ogbunabali, Abonnema and different parts of the city were reconstructed by the Wike administration .
He said: "We are grateful because you stood your ground that PDP must control Rivers State. We need to let them know that Rivers State and Port Harcourt in particular remain for PDP. We shall vote PDP top to bottom".
He said in the next elections, anybody who is not from Port Harcourt and attempts to hijack results will be firmly resisted .
PDP Candidate for Port Harcourt Federal Constituency 1, Rt Hon Ken Chikere said the people of the area are firmly in support of the re-election of Governor Wike.
Member Representing Port Harcourt Federal Constituency, Mrs Blessing Nsiegbe said that the victory of Governor Wike has been divinely orchestrated for him to consolidate on his achievements.
Rivers State PDP Chairman, Bro Felix Obuah presented the PDP Candidate for Rivers East Senatorial District, Senator George Sekibo, PDP Candidate for Port Harcourt Federal Constituency 1, Rt Hon Ken Chikere, PDP Candidate for Port Harcourt Federal Constituency 2, Hon Chinyere Igwe, PDP Candidate for Port Harcourt State Constituency 1, Solomon Wami, PDP Candidate for Port Harcourt State Constituency 2, Tonye Smart Adoki and Port Harcourt State Constituency 3, Azeru Opara to the people for their support.
He urged the people ensure that all PDP members win their respective elections.
Mayor of Port Harcourt City Local Government Area, Victor Ihunwo said that Governor Wike has been ordained to lead Rivers State to glory.
The Chairman said that all the collected permanent voters cards would be used to vote out failed President Muhammadu Buhari.
PDP Candidate for Port Harcourt State Constituency 2, Tonye Smart Adoki said that performance of the Rivers State Governor has convinced the people to re-elect him. He said that Governor Wike revived PDP and sustained the party for electoral victories in 2019.
Highpoint of the occasion was the defection of hundreds of APC members to the PDP. Leader of the Decampees, Amadi Chukwu said they have moved over to PDP to assist the party to victory.