RIWAMA.
Dirty RIWAMA, a big embarrassment to Rivers State.
It's becoming a state shame and unhygienic, the way Rivers State environmental is kept unclean and dirty. Everywhere in Rivers State is dirty.
Almost every streets, villages and town are so unkept and dirty.
RIWAMA no longer carry out their duties. Streets are smelling, drainage systems are blocked with gabbages and dirts.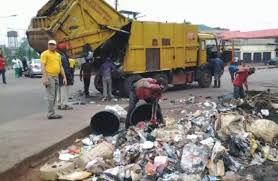 What's happening?.this is not Felix Obuah RIWAMA that we used to know years back. Now they do apparently doing nothing.
What's the cause?
DEZ MAYORZ efforts to get to RIWAMA director was futile.
What's the problem?
Is it the continuous cancellation of Saturday sanitation exercises by RIWAMA that is leading to the this meheim?
RIWAMA should stop cancelling the monthly sanitation exercises.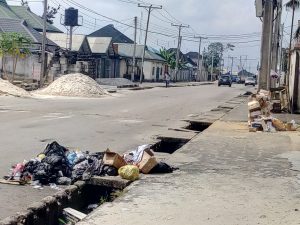 (Abuloma street).
Is it that Gov Nyesom Wike is no longer funding RIWAMA again?
DEZ MAYORZ reported last year that Gov Wike blasted Felix Obuah and his RIWAMA group, telling them that they do waste money given to them and do nothing.
If Gov Wike doesn't have confidence on Felix Obuah to handle RIWAMA, let someone else handle the job and the position, instead of leaving them poorly funded.
Is it the on-going campaign in Rivers State, where politicians are busy? Is it why RIWAMA no longer operates to its fullest to keep Rivers State clean?
Political campaign shouldn't stop PDP party chairman Bro Felix Obuah to effectively deal with RIWAMA in carrying out their duties effectively and efficiently.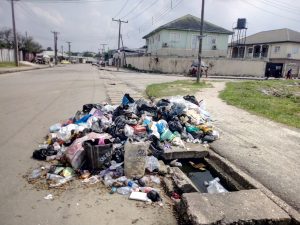 (Eagle Island streets, with dirts every where unpacked).
Is the Sabbath day observances?
Some Rivers people claim that Felix Obuah do shun sanitation exercises sometimes because he is seventh day Adventist.
DEZ MAYORZ is reluctant to accept it as a truth.
Seventh day Sabbath observances shouldnt be a reason why Rivers State should be kept unclean.
What is the reason for this recent uncleanliness in Rivers State.? There is no excuse for Gov Wike, Felix Obuah and RIWAMA group to justify this act.
Rivers State government should do something urgent to curb this. Gov Nyesom Wike, Felix Obuah and other personels involved should do the needful to remove this public shame that is now upon Rivers State.
Let's keep Rivers State clean now!