Loxxy.
The southern Nigeria music artiste Loxxy has emphatically said he has never smoked before. He said that the day he wanted to smoke, he had a voice not to, and ever since obeyed the voice.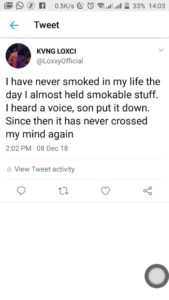 Is Loxxy really lieing to Nigerians or he is saying the truth ?.
[wds id="1″]
Loxxy is known with good quality songs including CONTROLLER and FOR YOURSELF.