OMPAN.
The Online Media Practitioners Association of Nigeria has vowed that it will stop at nothing in ensuring that elected officials of government are held to account for the promises made to the people during campaigns.
Speaking at Radio Nigeria Network News on Sunday, the National President of OMPAN, Comrade James Emeh Anyalekwa said "As an association, we have involved in a lot of activities such as getting the elected representatives to account for the promises made to the people. How are they able to implement these promises that they made to the electorate before the election"? Anyalekwa said part of the measures to achieve this is through organising project assessment, which he said the Association has organized in Abia and other states.
He expressed dissatisfaction that politicians apply the use of fake news and propaganda to reach out to the electorate. This according to him was the reason the Association was formed in 2015 after the general election. "As online media practitioners, we asked ourselves is this good for the political system? Obviously not. So we decided to come together and find a way as practitioners, we can collectively, first guide our members on the use of social media, the online, the internet in disseminating these information to the masses" he said.
He stated that as the 2019 election approaches, the Association has mapped out some strategies to curtail the extent to which people spread fake news and propaganda, which he described as retrogressive tool. He said the Association has an internal body, charged with the responsibility of gate-keeping what goes out to the public. "It ensures that the practices and activities of members conform with guidelines of professional journalism. We also look at the issue of verifying news, ensuring that every news is verified to a reasonable extent" he said.
Anyalekwa insisted that the Association is not an all-comers platform, stating that before a member can be admitted into the body, a good research is conducted on their activities and what they have been using their platforms to propagate. He also said part of measures to enhance professionalism in online media practice is organizing training session for those who do not have a journalism background before venturing into online media practice, and equip them with basic knowledge of journalism.
On how to deal with erring members, Comrade Anyalekwa said the Association imposes fine or de-register such member to serve as a deterrent to others. "We know our members personally, we know them to their houses, so if you're a member of OMPAN and you go against our constitution and guidelines, we sanction you decisively" he said.
He admitted that members do face difficulty in verifying all news items, but assured that a lot is being done to enhance credibility in information sources. He also called on members of the public who feel defamed by the activities of online media practitioners to feel free and approach to Association for a redress. He vowed that the mechanisms put in place to guide members will be implemented to the later to instill sanity in the practice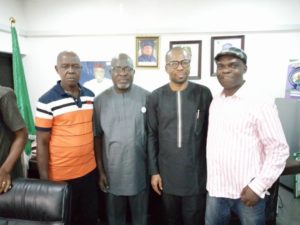 *feanyi Okali
OMPAN National Editor