port Harcourt Airport terminal.
-Buhari unites Rivers State politicians. (APC and PDP unite for common goal) .
– Rotimi Amaechi was unavoidable absent, due to vital Town Hall Meeting in south West.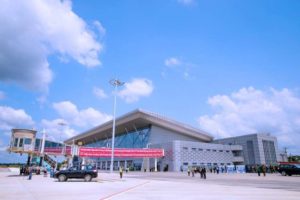 The Federal Government has been commended over the completion of the Port Harcourt International Airport new terminal and its inauguration by President Muhammadu Buhari on Thursday.
The terminal building which is 25, 163 square meters was built by the Chinese Civil Engineering Construction Company (CCECC) Nigeria Limited.
The contract was signed on Dec. 3, 2012, at a cost of $111,168,752. Work began on the project on March 1, 2014.
It was learnt that 85 percent of contract sum came from Export-Import Bank of China as a concessional loan while 15 percent of the sum came as counterpart fund from the federal government.
The project was stalled until President Buhari directed that it must be completed.
The main work in the contract included a two storey terminal building, the cargo terminal, the apron, external and other ancillary works.
His Eminence King Achimele Amadi, Nyeweli Omaogwa, the 40th commended the Federal Government for the smooth completion of the new terminal.
"I have been on the throne for four years now and this is the first time I have seen the presence of the Federal Government in terms of the project", he said.
"This project is a welcome development as it would boost economy and employment in my domain."
An airport user, Mrs. Gloria Aku commended the government for the completion of the terminal building, saying that total completion of the airport would be a great achievement.
"You cannot overemphasize the importance a befitting and functional airport in the economy of any nation; airport boosts tourism, " she said.
Another user of the airport, Mr. Michael Dowe expressed happiness about the completion of the terminal.
An overview of facilities at the airport shows total completion of the main concourse, escalator, the checking counter and others.
The inauguration was marked by the heavy presence of security agents, traditional rulers and politicians.
Special moments:
-Bro Felix Obuah (PDP chairman) and Amachree Ojukaye (APC chairman )unite, in the presence of Port Harcourt City chairman -Mayor Victor Ihunwo (Vokor).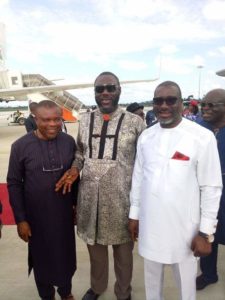 – Gov Wike talks with Buhari accordingly.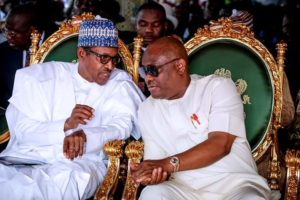 – Tonye Cole(APC gubernatorial candidate) unite with Magnus Abe and Lulu Briggs.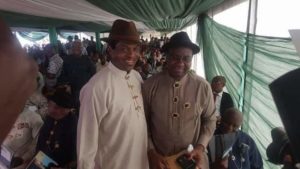 – Tonye Cole shook hands with Gov Nyesom Wike.