Port Harcourt Mayor.
Mayor of Port Harcourt swears in 5 Supervisors, 6 Special Advisers and a Legal Adviser, inaugurates 38 Senior Special Assistants and 97 Special Assistants.
The Mayor of Port Harcourt City, Honourable Ihunwo Victor Nyeche, JP, has sworn in 5 Supervisors, 6 Special Advisers and a Legal Adviser, while 38 and 97 others were inaugurated as Senior Special Assistants and Special Assistants, respectively.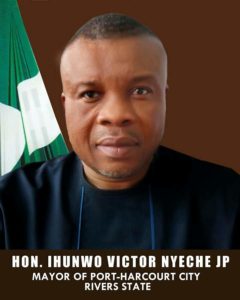 Speaking during the swearing in ceremony earlier today at the Port Harcourt City Council Secretariat, Moscow Road, Port Harcourt, the Mayor of the City called on his appointees to see their appointment as a call to the service of the people.
He advised the appointees to work hand in glove with him to empower more people, by carrying one or two persons along, in line with the New Rivers Vision of His Excellency, Chief Barrister Nyesom Ezenwo Wike, CON, or risk being shown the way out.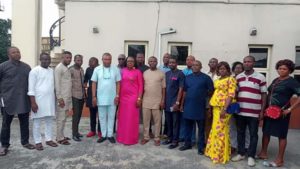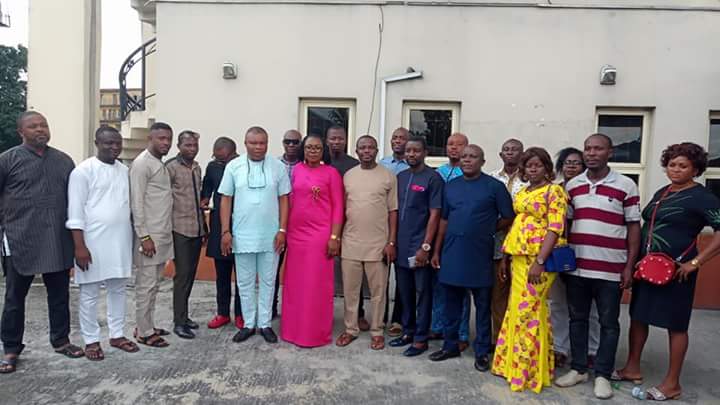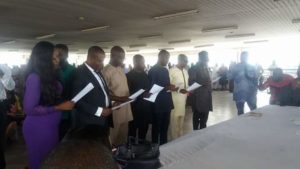 Those sworn in as Supervisors were: Honourable Okechukwu Orlu, Supervisor for Works; Honourable Sydney Ogolo, Supervisor for Transportation; Honourable Gift Amadi, Supervisor for Youth and Sports; Honourable Ali Promise Nwenekanma, Supervisor for Environment; and Honourable Ichemati Onyekaozuru, Supervisor for Education.
The Special Advisers were: Chief Worgu Okabie, Mr Kingsley Chinda, Mr Wilson Bipialaka, Mr Asimie Tamuno, Mr Princewill Sunday, Honourable Innocent Enwusor Nsiegbe, While Barristers Godson Dike was sworn in as Legal Adviser.
Responding on behalf of all the appointees, Honourable Sydney Ogolo thanked the Mayor of Port Harcourt City for the opportunity given to them to serve under his administration and assured him of their resolve to put in their best to make his administration successful.
Leader of the Port Harcourt City Legislative Assembly, Honourable Collins Omunakwe, Leaders/ Stakeholders of Port Harcourt City Local Government Area and Principal Staff Officers of the Council graced the Swearing in/Inauguration Ceremony with their presence.
THE UNDERMENTIONED APPOINTEES OF THE MAYOR OF PORT HARCOURT CITY, HONOURABLE IHUNWO VICTOR NYECHE JP, ARE BILLED TO BE INAUGURATED BY 12 NOON, TODAY, TUESDAY 9TH OCTOBER, 2018, AT THE COUNCIL SECRETARIAT, MOSCOW ROAD, PORT HARCOURT.
SUPERVISORS
1.Gift Amadi
2.Hon Sydney Ogolo
3.Hon Okechukwu Orlu
4.Promise Wenekanma Ali
5.Onyekozuru Ichemati
SPECIAL ADVISERS
1.Chief Worgu Okabie
2.Kingsley Chindah
3.Wilson Bipialaka
4.Asimie Tamuno
5.Princewill Sunday
6.Hon Innocent Enwusor Nsiegbe
SENIOR SPECIAL ASSISTANTS
1.Mr Adele Martins Nduka
2.Mr Raymond Wechie
3.Mr Noble Azubuike Nsiegbe
4.Mr Emmanuel Oparaodu
5.Mr Frankmoore Ogunka
6.M's Queen Peters
7.Mr Chukwudi Agali Osuji
8.Mr Ndubuisi Orlu
9.Mr Iso Igwe
10.Mr Kamaru Oguntayo
11.Mr Ken Oforji
12.Chief Bright Nwachukwu
13.Emmanuel Ajikere
14.Spencer Ogbonna
15.ThankGod Amadi
16.Jerry Chisom Amadi
17.Marshall Oparaodu
18.Romeo Chukwu
19.Ezebunwo Ichemati
20.Ibeka Williams
21.Chidi Adiele
22.Godstime Ihunwo
23. Nsirim Samuel Ejekwu
24.Afolabi Aliu
25.Clifford Inimgba
26.Steven Edu
27.Emmanuel Tasie
28.Hon Henry Otu Agbirigba
29.Henry Chinwo
30.Kingsley Ugbeh
31.Charles Ngah
32.Prince Atuzie Chikere
33.Bobo Ihunwo
34.King Akah
35.Samuel Worlu
36.Blessing Omodu
37.Emmanuel Woluchem
38. Akah Wami
SPECIAL ASSISTANTS
1.Benneth Okuru
2.Dickson Wobo
3.Ichem Amadi
4.Igo Wobo
5.Chinedu Ogbonda
6.Bob Wosu
7.Okechukwu Amadi
8.Herbert Nwizu
9.Martins Mgbamoka
10.Benjamin George
11.Ibiwari Batubo
12.Bestman Chukwu
13.Chidex Okwu
14.Adedeji Kareem
15.Promise Dickson
16.Christopher Wobo
17.Abiye Walter
18.Sam Okechukwu
19.Ibra Onyebulachukwu
20.Godspower John
21.Austin Ejigini
22.Daniel Ndubuisi
23.Chima West end
24.Okechukwu Amadi
25.Nkechi Opara
26.Patience Wigodo
27.Nnenna Wuche
28.Esther Nsiegbe
29.Sylvania Ibechenjo
30.Elizabeth Amadichukwu
31.Ijeoma Ejiogu
32.Ngozi Chimenem
33.Minabo Opugbani
34.Stephen Nyeche
35.Tonye Ibanichuka
36.David Amadi
37.Patrick Nsiegbe
38.Gift Igwe
39.Azunda Tobin
40.Eberechi Amadi
41.Charles Ogueri
42.Jerry Ichemati
43.Okobadu Obia
44.Okechukwu Igwe
45.Flesh Wuche
46.Victor Dikidama
47.Nana Juliet
48.Gloria Nwankwo
49.Chinedu Orike
50.Innocent Wigodo
51.Benjamin Abusemieka
52. Spencer Caroline
53. Chigozie Prince Amadi
54.Eme Wokekoro
55.Minayo Igani
56.Victor Ikechi Chinda
57.Kingsley Worlu Orwu
58.Ebenezer Orubo
59.Steven Orlu
60. Abigail Nki Omunakwe
61.Tonye Tobin-West
62.Miriam Boms
63.Abel Chindah
64. Friday Johnson
65.Rita Onwunali
66.Hench Chinwo
67.Dike Chiokwa
68.Ogedi Kalagbor
69.Christopher Inimgba
70.Felix Ikarika
71.Ibiwari Gudi
72.Ajemina Sunny Gobo
73.Gloria Ogbanga
74.Smart Gudi
75.James Iweriso
76.Ransome Opuiyo
77.Solomon Ibibio
78.Bridget Onuoha
79.Akin Ogoloma
80.Kingsley Ihunwo
81.Uche Amadi
82.Abraham Evans
83.Chizi Augustus Ichenwo
84.Ikechukwu Okeke
85.Frank Ojimah
86.Gibson Ogbondah
87.Arthur Eze
88.Christopher Igwe
89.Rizzy Worha
90.Princess Akire
91.Lucky Ejekwu
92.Adoki Macaulay
93.Boye Banigo Genesis
94.Christopher Akanga
95.Adoki Ayiso
96. Charles Okwu
LEGAL ADVISER
1.Barr Godson Dike
The appointees are advised to be seated at least 30 minutes before the commencement of the inauguration ceremony.
DEZ Mayorz post via:
Anuebunwa Victor Chidozie
Special Assistant to the Mayor of Port Harcourt City, Media (ii)
Tuesday 9th October, 2018.