Jikume.
The front artiste of Oshirikiri Entertainment -Jikume, saved a soul in Port Harcourt on her way visit to DEZ MAYORZ director -Okoye Chidiebele Schidi, along Agip by Ada Goerge, PH .
The Niger Delta Queen – Jikume showed companion and passion on a half -life girl in the street.
Jikume narrating via her facebook account which read :
EVERY CHILD NEEDS LOVE
#Hope4TheAgeOut

And So Last Night, Before My Brief Meeting With Dez Mayorz Around Agip Area, I Saw A Little Girl I Thought Was A Begger, Deeped My Hands Into My ? To Gift Her Some Cash, Then Realized She Was Actually Bleeding With Rough Plasters On Her Forehead.

Went Closer To Talk To Her And Found Out She Is Gift, An Akwa -Ibomite Living With A Lady Whom She Sells For Around Whimpey Here In Port Harcourt. She Also Said Another Woman Brought Her From Her Grandma In The Village To Port Harcourt For The Woman She Stays With…She Doesn't Go To School.

…Asked What Happened To Her And Learnt The Woman She Lives With, A Mother Of Three Broke Her Face Because She Lost Six Hundred Naira Only, #600 After The One Of Her Sales On Her Way Back.

Well… Had To Get Her Pain Reliefs, Food And Refund Of The Lost Money. But My Question Remains,:

Why Are People This Wicked????

That Poor Girl Child Of About 11years Could Have Been Raped And Killed For Ritual Or Anything Else. I couldn't Leave Her With All The Young Men Hanging Around At Almost 9pm.

GOD Please, Protect Her And Everyone Going Through Same OrEven Worse Treatments From People Who Should Provide For And Protect Them Against Harms.

LoRd God Almighty, Help Me Do More Than I Am Capable Of Of Today. make Me A Light In People's Lives Around The Globe.

May Oshikiri Entertainment Help Bring Smiles And Life To Your Children In Jesus Name."-Jikume.
One thing DEZ MAYORZ director Schidi observed was that Jikume really save a life. She didn't snap pictures with the child, she did everything maturely.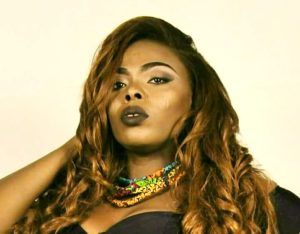 (Listen to Jikume Mr Churchill song below.
)
If it's other artistes, they wil snap pictures with the child and begin to post it everywhere.
God bless Jikume Bethlehem, God bless Oshirikiri entertainment for this kind gesture.